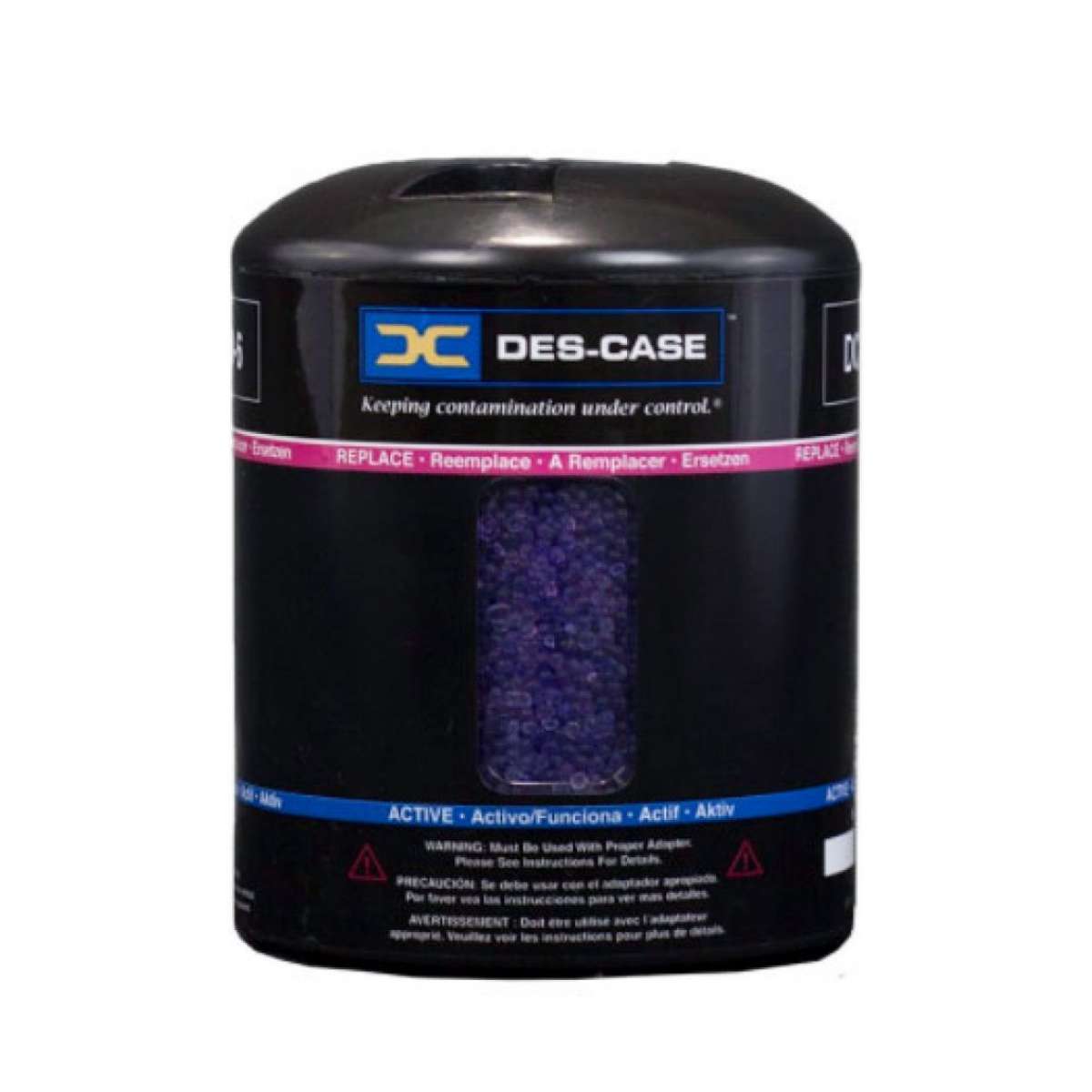 Des-Case DC-XD-6 Extreme Duty Breather
Extreme Duty Breathers
Ideal for harsh environments
Availability:
Please Contact
Specifications
Unit Height 6.51" (16.54 cm)
Diameter 5.1" (12.95 cm)
Amount of Silica Gel: 1 lb. 12 oz. (790 g)
Adsorption Capacity: 10.72 fl.oz. (315 ml)
Connection Size: 1-1/2" x 16 Straight Thread
Max. Flow Rate (cfm): 20 @ 1 PSID
Operating Temp. Range: -40°F to 300°F (-40°C to 149°C)
Body Material: Nylon & Polycarbonate
Hydrophilic Agent: Silica Gel
Filter Media: ePTFE
OVERVIEW

Every element of Des-Case's Extreme Duty Disposable Breathers has been designed to take contamination control to a whole new level, standing up to a wide variety of applications in challenging environments.
Des-Case extreme-duty breathers attack the cause of contamination, keeping dirt and water where it belongs - out of your equipment.
FEATURES

Eliminates rust-forming condensation
Prevents sludge deposits and water-contaminated oil
Provides longer oil and filter life
Reduces wear and tear on equipment, prolongs life
Helps reduce operating costs due to repair parts, labor costs, and production downtime
Allows optimum performance and ongoing reliability of industrial machinery
Automotive grade housing and solid standpipe design offer increased vibration resistance and temperature range
Three layers of protection to 0.3ì
Water-blocking filter media prevents free water from entering breather
Clear windows for easy system monitoring
Color-changing silica gel changes from blue to pink when breather needs replacing
Check valve system extends product life even further
Unit Height 6.51" (16.54 cm)
Diameter 5.1" (12.95 cm)
Amount of Silica Gel: 1 lb. 12 oz. (790 g)
Adsorption Capacity: 10.72 fl.oz. (315 ml)
Connection Size: 1-1/2" x 16 Straight Thread
Max. Flow Rate (cfm): 20 @ 1 PSID
Operating Temp. Range: -40°F to 300°F (-40°C to 149°C)
Body Material: Nylon & Polycarbonate
Hydrophilic Agent: Silica Gel
Filter Media: ePTFE