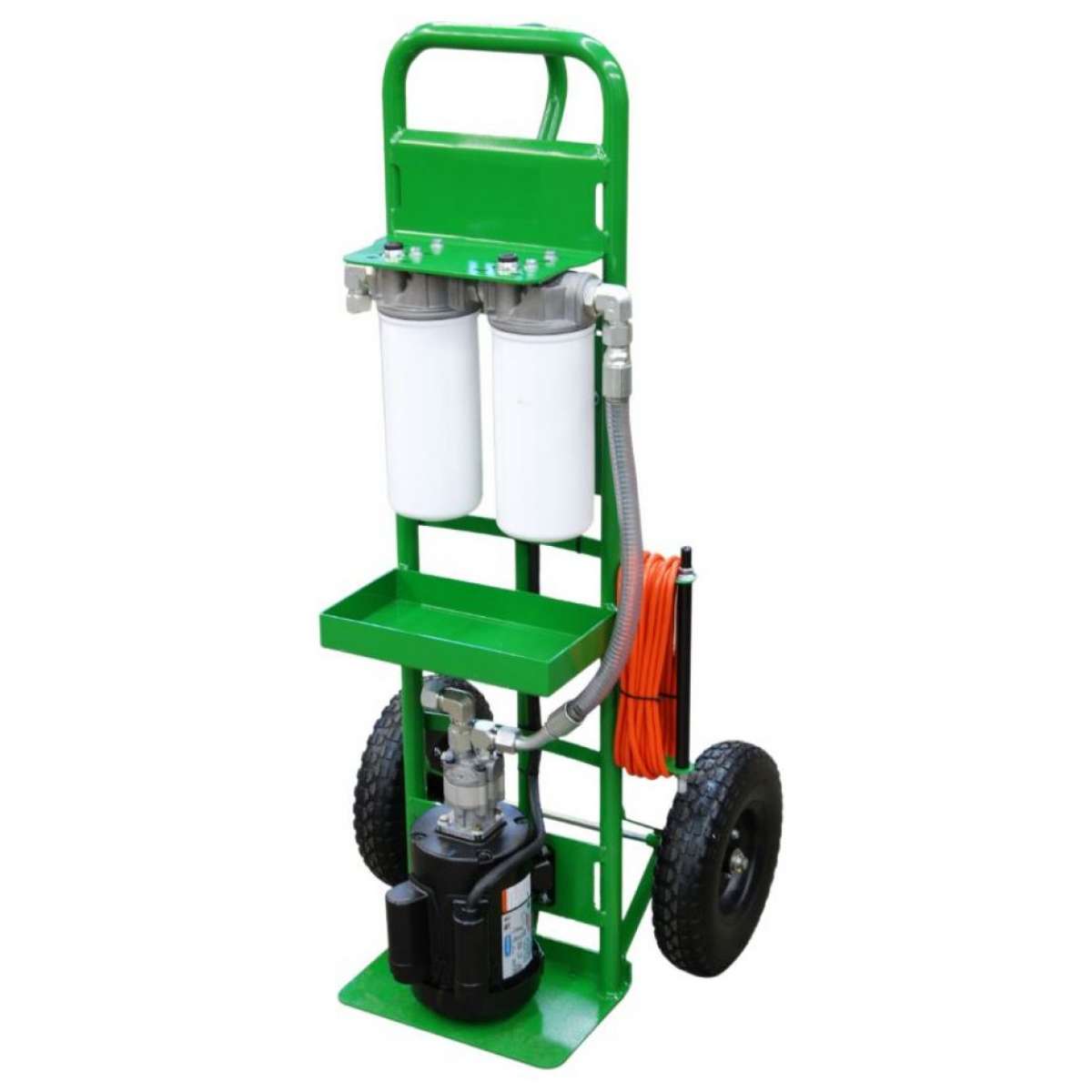 Lubrigard 2 Wheeled Hand Truck Filter Cart 1HP 5GPM SPCL
$5,516.71

Simple and Powerful.
2 Wheeled Hand Truck Filter Cart
Part Number:
LG-HTM25105ZHZQ25C1-BOS
OVERVIEW

The HT-M Series filter cart is a great choice for "off-line" filtration in a wide variety of settings. Extremely mobile and light weight, this filter cart has the ability to filter oil viscosities up to 600cSt (ISO VG 680) at 100ºF within ambient temperature ranges of -15ºF to 150ºF. All products are 100% customizable upon request.
SPECIFICATIONS

2 Wheeled Hand Truck Filter Cart
Flat/Maintenance Free Tires
Dual 50 PSI Bypass Filter Heads W/ Pop-Up Differential Pressure Indicators
25 Micron Beta 1000 Second Stage P1071
10 Micron Beta 1000 Second Stage P1070
2" Lipped Drip Pan Under The Elements
1HP Motor TEFC 110VAC
5 GPM Heavy Duty Cast Iron Gear Pump W/ 150 PSI Relief Valve
7' Suction and Discharge Hoses With ISO B Quick Disconnects (1" Suction & 3/4"
Discharge, Both W/ ISO B 3/4" QD's)
255' Electric Cord
Industrial Powder Coat: Blaze Orange
Manual Bypass
Oil Sample Ports Up/Down Stream
Inlet Pump Suction Strainer
FEATURES

Filtering contaminated systems
Flushing new or repaired systems
Pre-filtering new oil
Transferring oils
Topping off reservoirs
Collecting oil samples for analysis
Dispensing new oil