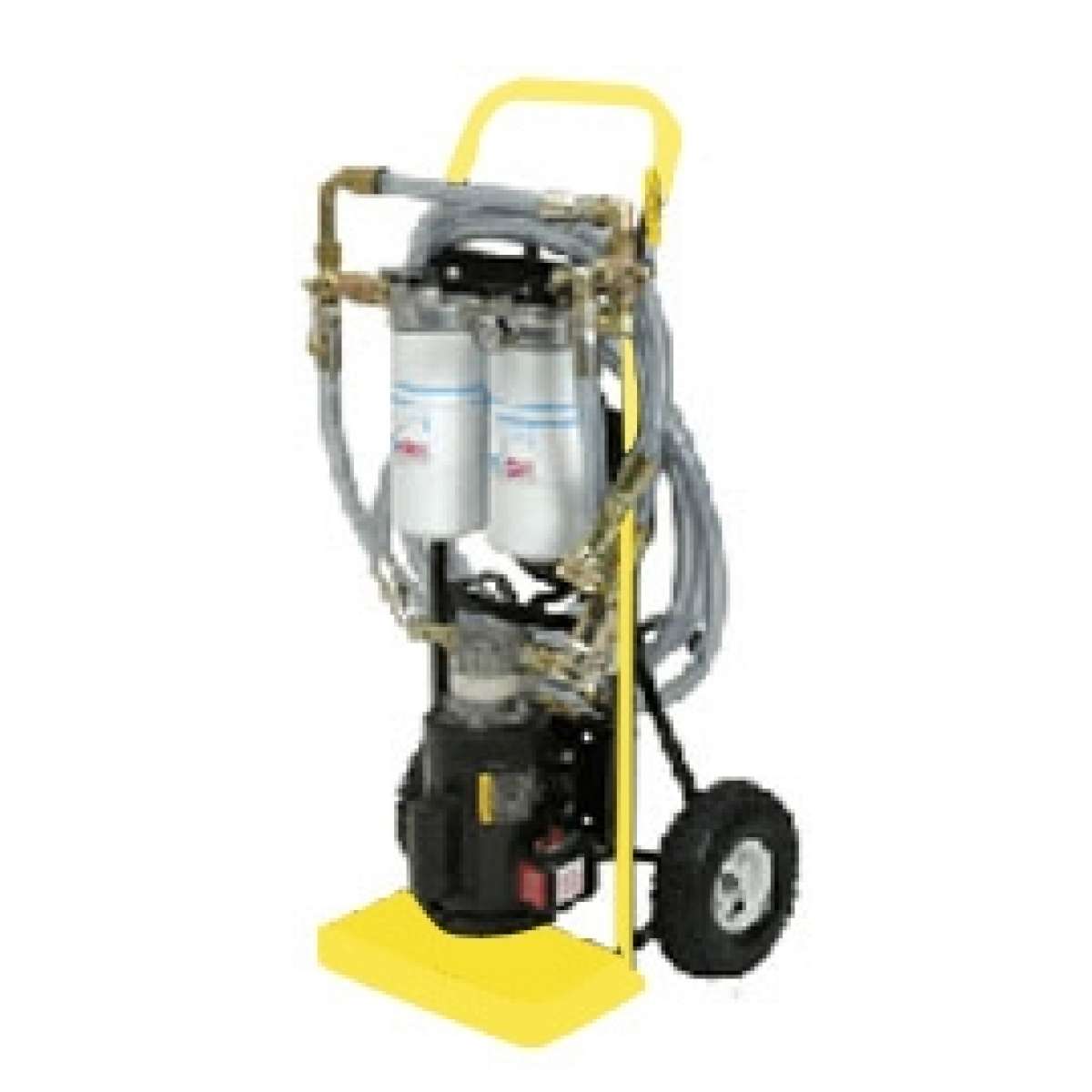 Des-Case 5 GPM Dual Stage Filtration Cart - Black
$5,237.68

Off-line Filtration
Des-Case FlowGuard Filter Cart with 5GPM, 115v motor, 1" ISO-B suction side, 3/4" ISO-B fill side, 25` electric cord reel, 6 and 3µm filters.
Part Number:
FC-05EB1BAB00Y2
OVERVIEW

Des-Case Corporation introduced its latest offering in the FlowGuard™ line of fluid handling products today. The FlowGuard™ Filter Cart is a customizable, all-in-one filtration system built upon a rugged powder-coated dolly. The cart filters and transfers oil from lubricated systems, while removable plastic drip pan prevents filter changes from contaminating the work area. With dual-stage filtration to customer specifications, a filter bypass, 12` hose assemblies with a variety of hose-end connections and a remote-mounted power switch, it`s easy to build the perfect solution for any application.
Des-Case FlowGuard™ fluid handling systems incorporate smart technology to make fluid handling a simple task, requiring less equipment and labor while reducing system contamination. Each fluid handling system is completely customizable with over a million possible combinations and is usually shipped within two weeks of order.
SPECIFICATIONS

Flow Rate: 19 l/min (5 GPM)
Motor: 115v 60Hz
Suction Connection: 1" ISO-B
Fill Connection: 3/4" ISO-B
Filter Head(s): 2
Filter A: 7µm
Filter B: 4µm
Bypass Valve: Manual Filter Bypass Valve
Sample Port: None
Power Cord Reel: 25 ft
Reliefe Valve: Safety Relief Valve
Y-Strainer: Yes
Color: Black
FEATURES

Rugged, powder-coated dolly
12` hose assemblies
Filter bypass
Dual-stage filtration
Remote mounted power switch
Various hose-end connections and hoses available
Removable plastic drip pan