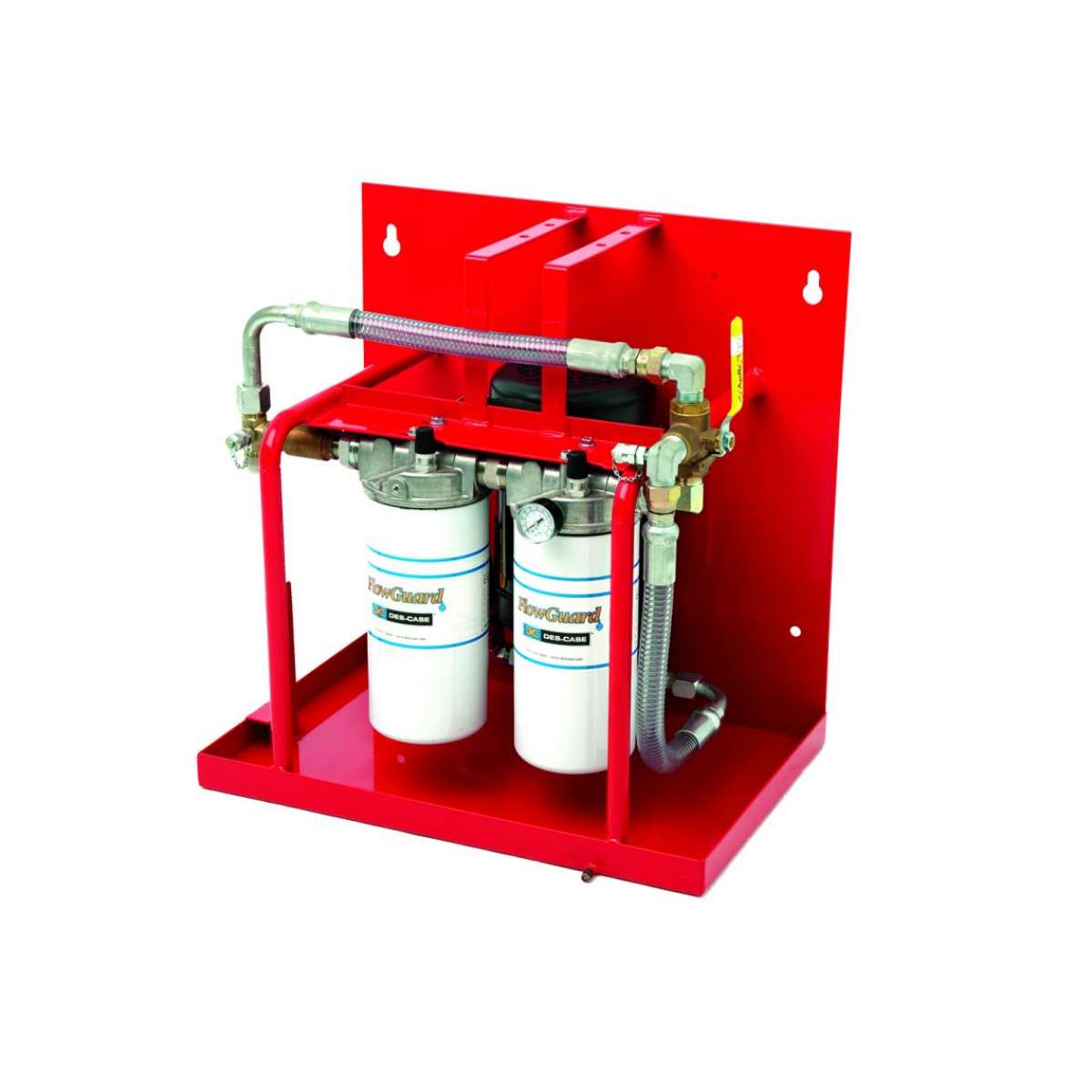 Des-Case FlowGuard Panel Unit
Price: Call for price
1-800-268-2131

Fixed Filtration
2gpm Electric Pump - 115vac, 60 hz, Filter A: Water removal, Filter B: 6 micron, Standard Sample Port, Relief Valve, Painted Red.
OVERVIEW

Industry spends millions of dollars annually treating the negative effects of contamination caused by dirt and moisture, such as excess machine wear, production downtime, and repair costs.
Whether you have an application that needs regular filtration, or a maintenance location where you bring equipment to be filtered, our FlowGuard™ panel unit is a made-to-order solution which can be mounted where you need it most.
SPECIFICATIONS

Pump: 2gpm Electric Pump - 115vac, 60 hz
Filter A: Water Removal Filter
Filter B: 6 micron Particulate Filter
Sample Port: Standard Sample Port
Relief Valve: Safety Relief Valve
Oil Cooler: No Oil Cooler
Temperature Gauge: none
Bypass Valve: Yes
Color: Red
NOTE: ITEMS IS NOT EXACTLY AS SHOWN
FEATURES

Filter bypass - Allows easy transfer of clean oil
Dual-stage filtration - Ensures optimal lubricant cleanliness
Industrial powder-coated paint - Provides durability
Customizable colors - Makes it easy to differentiate between assorted lubricants by paint color selection
Oil cooler (optional) - Helps extend life of oil