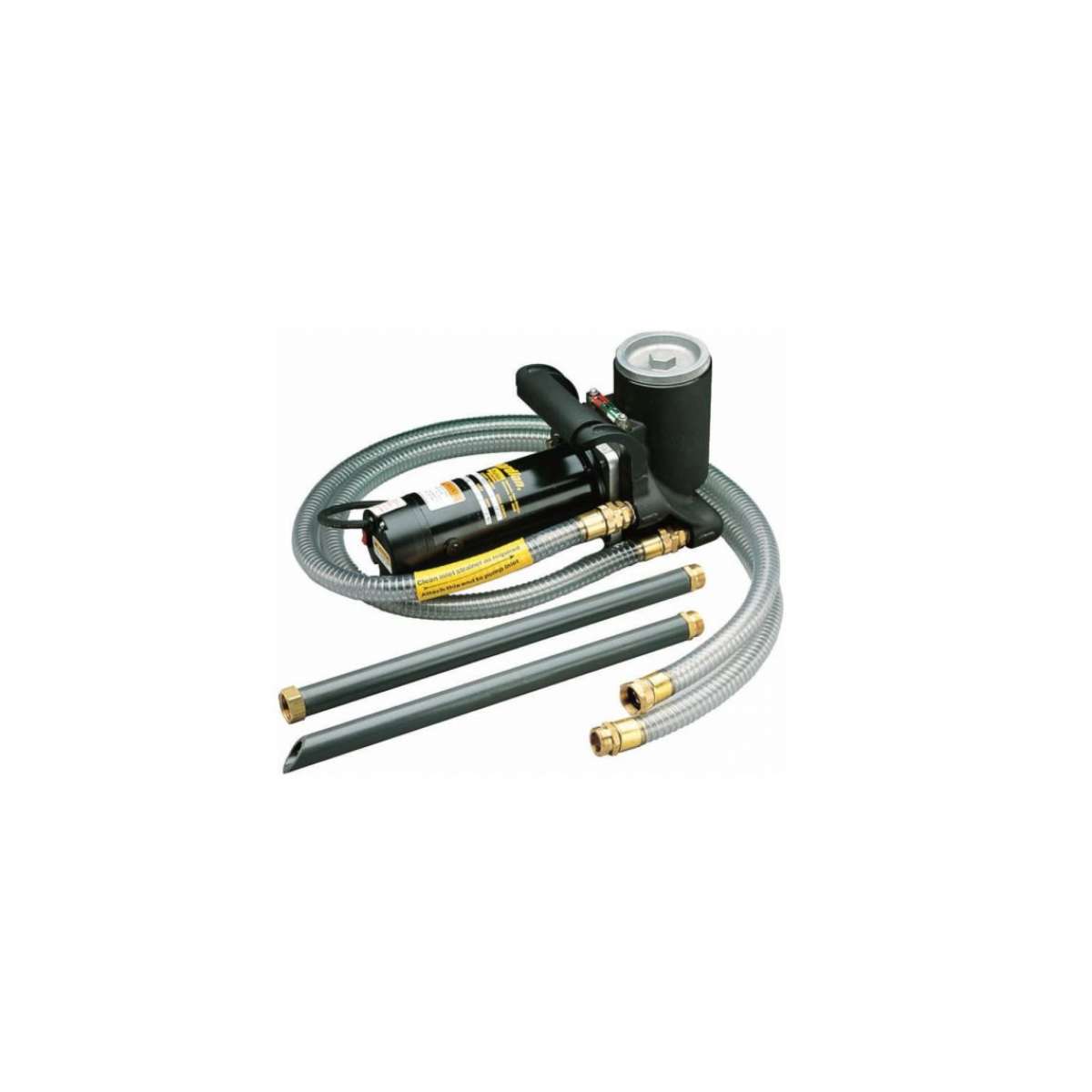 Parker Guardian Portable Filtration System
$2,854.00

Portable oil filtration at it`s smallest
Small portable filtration system for filtering oils during fill/top-up operations.
OVERVIEW

The Guardian portable filtration system is a unique pump/motor/filter combination designed for conditioning and transferring petroleum-based and water emulsion fluids. It protects your system from contamination added with new fluid because new fluid is not necessarily clean fluid. Most new fluids right out of the drum are unfit for use due to high initial concentrations of contaminants. Contamination may be added to a new fluid during processing, mixing, handling, and storage.

The Guardian also circulates and "polishes" fluid in your existing systems to reduce the contamination to an acceptable level. There are hundreds of applications that the Guardian is suited for, with more being discovered each day. If your system is sensitive to the harmful effects of contamination, then the Guardian may be ideal for you.
SPECIFICATIONS

Maximum Allowable Operating Pressure (MAOP): 50 psi (3.4 bar)
Flow Capacity: Up to 4 gpm (15 lpm)
Maximum Recommended Fluid Viscosity: (.85 specific gravity) 110-120 VAC and 220-240 VAC -16,000 SUS 24 VDC - 11,000 SUS
Warning: Explosion hazard. Do not pump flammable liquids such as gasoline, alcohol, solvents, etc.
Ambient Operating Temperature: -15°F to 104°F (-26°C to 40°C)
Fluid Operating Temperature: -15°F to 120°F (-26°C to 49°C)
Visual Indicator: Differential pressure type, set at 25 psid (1.7 bar)
Recommended Fluids: Petroleum based oils, water emulsions, and diesel fuels
Integral Relief Valve: Set at 50 psi (3.4 bar) for motor protection.
Noise Level: >70db at 3 ft.
Electrical Motor: ¼ hp@2500 rpm. 24 VDC; 10A max. 110-120 VAC; 50/60 Hz; 3A max. 220-240 VAC; 50/60 Hz; 1.5A max. Thermal overload protected. Replaceable brushes (500 hours).
Weight: Approximately 24 lbs (10.8 kg)
Materials: Housing - cast aluminum. Cover - die cast aluminum Handle and Indicator - nylon Wands and Hose - PVC Fittings - brass. Seals - fluorocarbon/carboxylated nitrile
FEATURES

FEATURES
Lightweight, hand held, compact design
Flow rate to 4 gpm (18 lpm).
Pump/motor combination with Carboxylated Nitrile seals standard.
Built-in relief valve with no downstream fluid bypass.
Wide variety of filter elements available.
Clear, wire-reinforced 5' hose assemblies with wand attachments.
Optional quick disconnect hose connections.
Heavy-duty ¼ HP, 115 VAC (230 VAC, 24 VDC- optional) motor with thermal overload protection.
Geroter pump with visible serviceable inlet strainer.
Quiet operation.
Convenient inlet-to-outlet hose connection.
Low center of gravity.
Dual motor seals.
Auxiliary inlet/outlet ports.
ADVANTAGES
Easy to carry and fits easily on top of 55 gallon drums.
Filters and transfers simultaneously.
Handles fluids up to 16,000 SUS viscosity (11,000 SUS -24 VDC).
Only filtered fluid reaches downstream components.
High capacity 2 micron absolute disposable microglass to 74 micron cleanable wire and water removal.
No additional hardware required.
Fast, easy setup and tear-down.
UL recognized and CSA listed, with replaceable brushes.
Dirt tolerant design with added protection.
Less than 70dB noise level @ 3 feet.
Contains fluids when transporting.
Guardian stability.
Added motor protection.
Used in place of, or in addition to, standard ports. The outlet can also be used as a sampling port.
BENEFITS
One person operation, capable of getting to hard to reach areas.
One step operation.
Reliable performance in a wide variety of operating conditions.
100% filtration ensured, even when unattended.
Maximizes element life between changes.
Ready to use and easy to maneuver.
Eliminates messy drips.
Safe, reliable performance; field serviceable.
Pump reliability in highly contaminated fluids.
Can be used most anywhere with minimal disturbance.
Clean and safe operation.
Unattended reliability.
Longer motor life.
Flexibility.