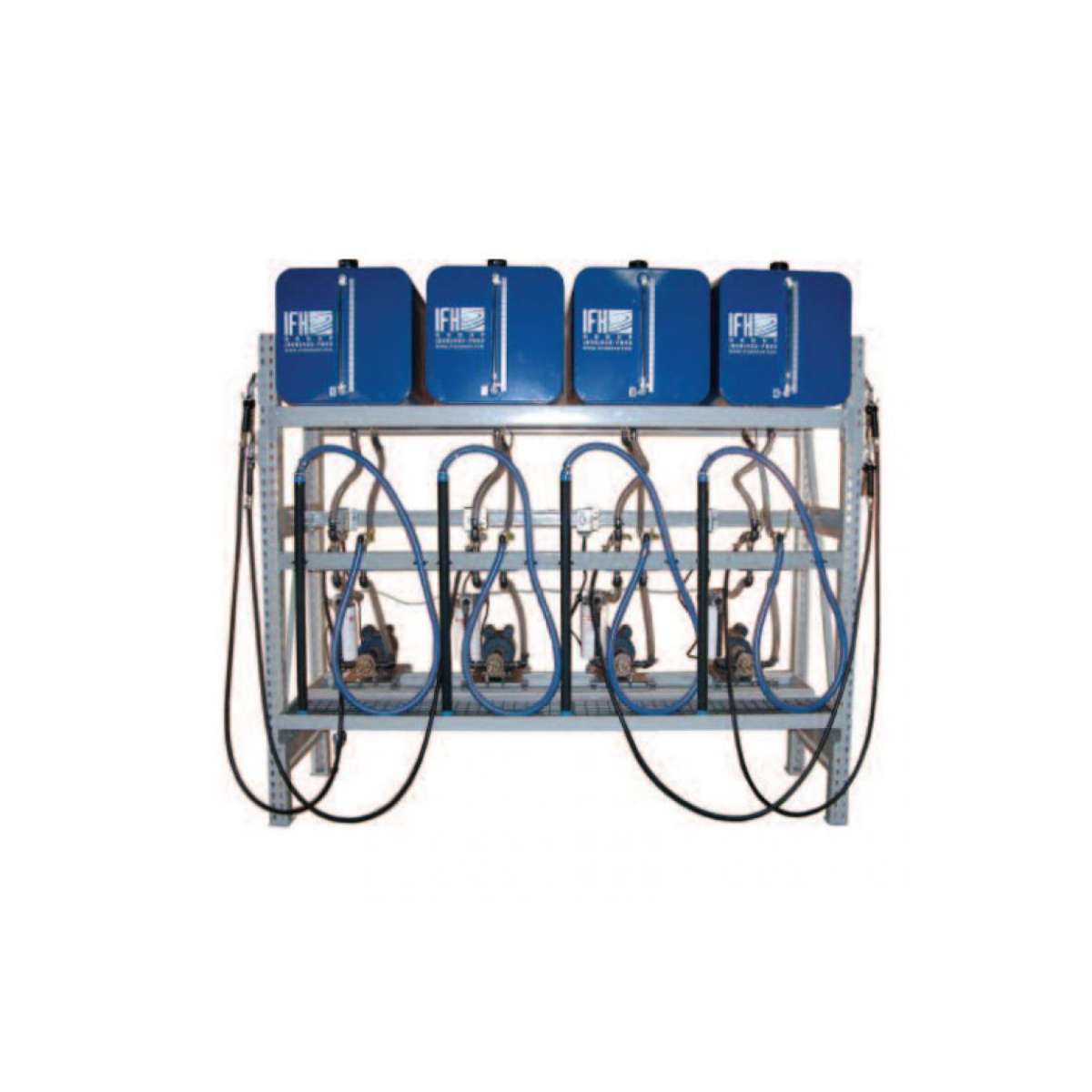 IFH 4 container system (1X4) with Diverter Systems
Price: Call for price
1-800-268-2131

The better way to handle oils
Now you can eliminate drum storage forever with the IFH Storage and Dispensing System.
OVERVIEW

55-gallon drums were okay in their day, but there is a better way to handle all kinds of oils, lubricants and industrial fluids that`s easier, safer, cleaner, and more cost efficient.
Inefficient transfer of product can not only lead to safety problems, it can also result in increased clean-up, labor costs, and purchase of adsorbants.
With drums, actual inventory is a guessing game that can result in product shortages or costly extra drums of back-up product.
Drums waste a lot of space. For example, nine 55-gallon drums (495 gallons) require about 120 square feet, compared to a nine container IFH system that requires only 19 square feet of floor space.
Drum pumps leave from 2 to 5 gallons of product in "empty" containers. This can add up to hunderds of dollars annually.
Drums and pumps require tipping, cleaning, switching, and replacing. When products are not stored close to the work area, going to the product wastes time.
The Innovative Solution

Now you can eliminate drum storage forever with the IFH Storage and Dispensing System. There are 21 standards systems available to meet your requirements.
SPECIFICATIONS

4 - 30 Gallon Rectangular Stainless Steel Containers with Industrial Grade PVC Sight Gauge Assemblies, 2-3/4" Inlet and Outlet Fittings and Desiccant Breathers.
4 - 3-Way Product Diverter Valve Assemblies to allow Product to be Pumped through the Filters into the Containers, and then Pulled back out of the Containers, through the Filters with the Transfer Units. 3 - On/Off Controlled, Electric Transfer Units, with a 110 Volt, 1-1/2 HP Motor (U.L. and C.S.A. Listed), 1/2 " Cast Iron Positive Displacement Gear Pump, 5/8 X 5/8 Shaft Coupler, 18 Gauge Mild Steel Shaft Coupler Guard, on/off switch and 12 Gauge Transfer Unit Mounting Bracket.
4 - Filter Assemblies consisting of 5" Filter Heads with 25 PSI Bypass, Visual Element Condition Indicator Gauges and Outlet Fittings. (filter elements can be purchased at additional cost)
2 - Grounding Cable Assembly (Required with Filtration) to Ground the Filters to the System Frame, the System Frame to an Earth Ground and The Transfer Unit to the Supply Drum
4 - Reinforced PVC Suction Hose Assemblies with Rigid PVC Suction Tubes And Covers. There will be 1 for each Transfer Unit.
4 - Discharge Hose Assemblies with On/Off Style Control Handles
3 - 84" TGIC Polyester Powder Coated Upright Frames rated at 20,300# each, and adjustable on 2" Centers
2 -46.75" TGIC Polyester Powder Coated Double wide Drip Pans constructed of 18 Gauge Steel with 12 Gauge Steel Mounting Brackets.
Drip Pans have 3/4" NPT Drain Faucets and 2" X 2" x 5" Gauge Wire Mesh Shelves to support Cans Or Pails when filling from the Console. Drip Pans will also House all Transfer Unit Assemblies
2 - 46.75" TGIC Polyester Powder Coated Channel Beams to support the 3-Way Diverter Valve Assemblies
System will come complete with all Racking, Hoses, Fittings, Etc., and will have Overall Dimensions of 101" Wide X 87" High X 43" Deep
1 - COMPCP4 - 4 Section Spill Containment Pan, each Section measuring 30" Wide X 50" Long X 7" High, with Overfill Piping to connect each Section together as one Unit. Total size of containment is 120" wide x 104" high x 50" deep.
ITEM MAY NOT BE EXACTLY AS SHOWN
FEATURES

Clean, efficient product transfer.
Spill containment.
No wasted product.
Store product next to the work area.
Full regulatory compliance.
No drum cleaning, tipping, switching or replacing.
Sight gauges for constant inventory control.
Custom systems for special requirements.