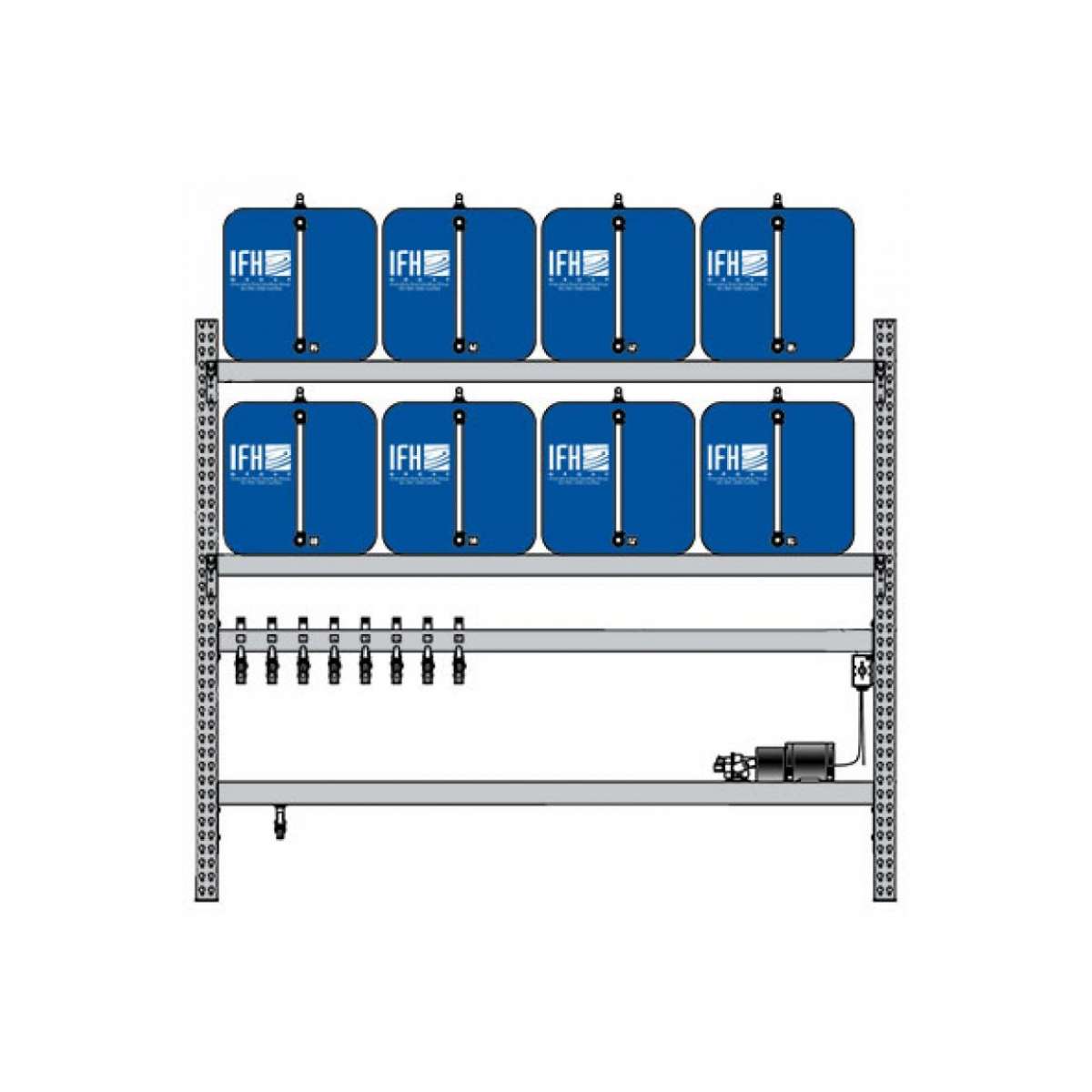 IFH 8 container system (2X4)
Price: Call for price
1-800-268-2131

The better way to handle oils
Now you can eliminate drum storage forever with the IFH Storage and Dispensing System.
OVERVIEW

55-gallon drums were okay in their day, but there is a better way to handle all kinds of oils, lubricants and industrial fluids that`s easier, safer, cleaner, and more cost efficient.
Inefficient transfer of product can not only lead to safety problems, it can also result in increased clean-up, labor costs, and purchase of adsorbants.
With drums, actual inventory is a guessing game that can result in product shortages or costly extra drums of back-up product.
Drums waste a lot of space. For example, nine 55-gallon drums (495 gallons) require about 120 square feet, compared to a nine container IFH system that requires only 19 square feet of floor space.
Drum pumps leave from 2 to 5 gallons of product in "empty" containers. This can add up to hunderds of dollars annually.
Drums and pumps require tipping, cleaning, switching, and replacing. When products are not stored close to the work area, going to the product wastes time.
The Innovative Solution

Now you can eliminate drum storage forever with the IFH Storage and Dispensing System. There are 21 standards systems available to meet your requirements.
SPECIFICATIONS

8 - 65 Gallon Rectangular Mild Steel Containers with PVC Sight Gauge Assemblies, 1-1/2" Flanges and Air Vents
8 - ¾" NPT Valve Arrangements with ¾" NPT Self Closing Faucets
1 - Timer Controlled, Positive Displacement Transfer Unit consisting of:
1 - 1 - 1-1/2 HP 220 Volt 50 HTZ. Electric Motor
1 - ½" NPT Gear Pump
1 - 8' Long x 1" I.D. Reinforced PVC Suction Hose with Suction Tube
1 - 6' Long x 1" PVC Discharge Hose with Quick Disconnects
2 - 32" x 84" Upright Frames
4 - 94" Crossbeams
1 - 94" Drip Pan with 2" X 2" X 5 Gauge Wire Mesh and ¾" NPT Drain
1 - 94" Channel Beam to support Valve Arrangements
1 - COMPCP4 - 4 Section Spill Containment Pan, each Section measuring:
30" Wide X 50" Long X 7" High, with Overfill Piping to connect each Section together as one Unit
System will come complete with fittings, etc., and measures 107" High X 120" Wide X 50" Deep
FEATURES

Clean, efficient product transfer.
Spill containment.
No wasted product.
Store product next to the work area.
Full regulatory compliance.
Modular, expandable.
No drum cleaning, tipping, switching or replacing.
Sight gauges for constant inventory control.
takes up much less floor space.
21 standard systems.
Custom systems for special requirements.