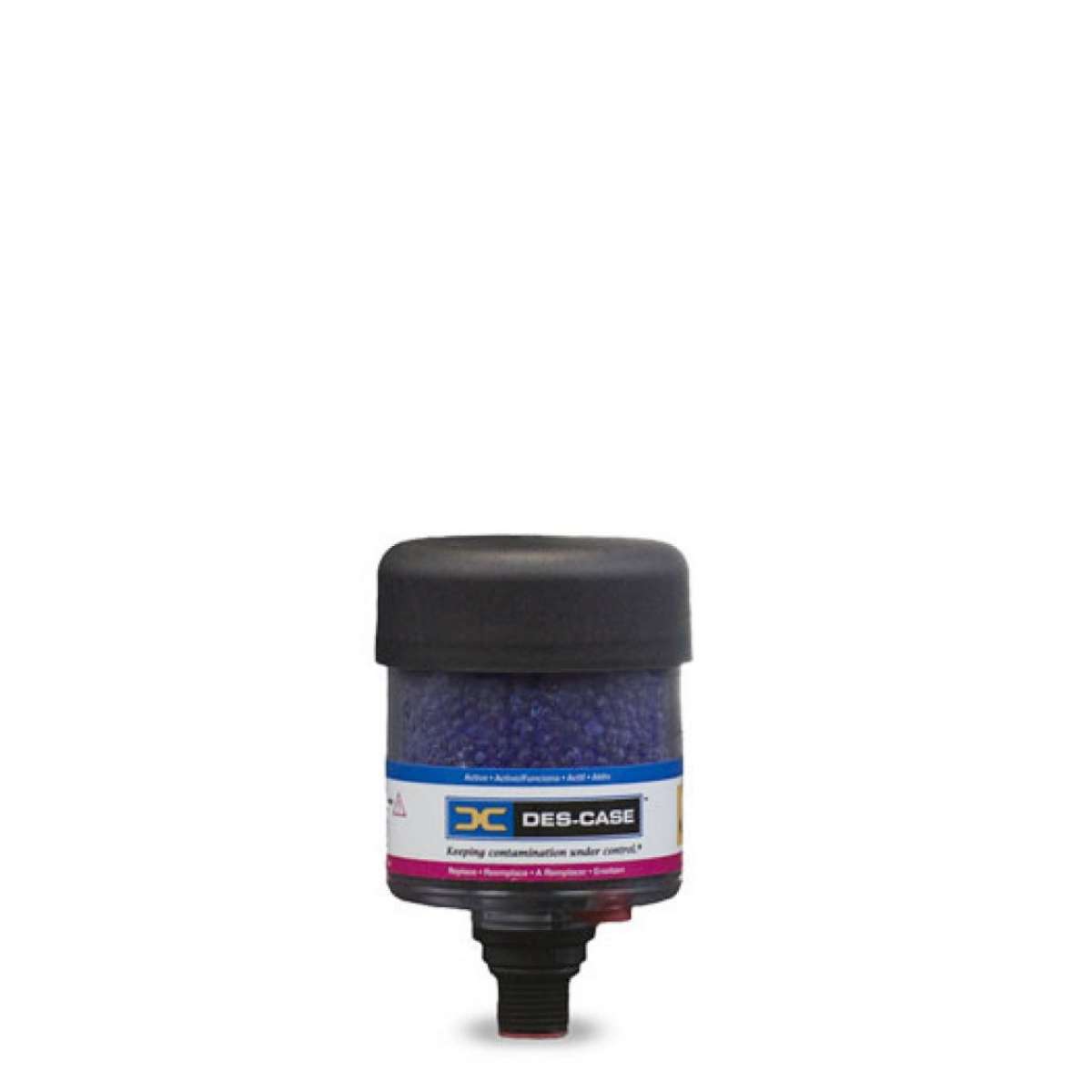 Des-Case DC-BB Button Breather (2.75 inch X 3.25 inch)
$49.07

DC-BB Miniature Disposable Breather
Diminutive design aids installation in confined areas.
OVERVIEW

From the core standpipe to the tough polycarbonate exterior, every element of Des-Case's disposable standard breather has been designed to stand up to the wide variety of industries and applications taking advantage of Des-Case's contamination control expertise.
Des-Case breathers attack the cause of contamination, allowing your equipment and lubricants to run longer and harder.
How the Product Works
As wet, dirty air is drawn through the unit, multiple 3-micron polyester filter elements remove solid particulate and the colorindicating silica gel extracts moisture.
When air is expelled from the container, the top foam pad prevents oil mist from contacting silica gel or entering the atmosphere.
The breather is outfitted with a resilient nylon standpipe and a clear polycarbonate body which allows for easy monitoring of the high-contrast silica gel.
SPECIFICATIONS

Unit Height 3.9" (9.9 cm)
Diameter 2.5" (6.4 cm)
Amount of Silica Gel: 2 oz. (57 g)
Adsorption Capacity: 0.8 fl.oz. ( 23 ml )
Max. Flow Rate (cfm): 3 @ 1 PSID
Filtration: 3µ (absolute)
Operating Temp. Range: -20°F to 200°F (-29°C to 93°C)
Hydrophilic Agent: Silica Gel
Filter Media: Polyester
Connection Size : 3/8" NPT
FEATURES

Resilient clear polycarbonate body
Bi-directional, controlled airflow
Multi-tiered filtration process
Water vapor adsorbent
3-micron absolute particulate filter elements
Color indicator for easy system monitoring
Prevents water contamination in oil and related fluids.
Prevents rust and corrosion inside the container.
Prevents chemical reactions or spoilage.
Increased oil and oil filter life.
Reduced abrasive wear, downtime, and repair costs.
Improved lubricant performance.
More reliable equipment performance.