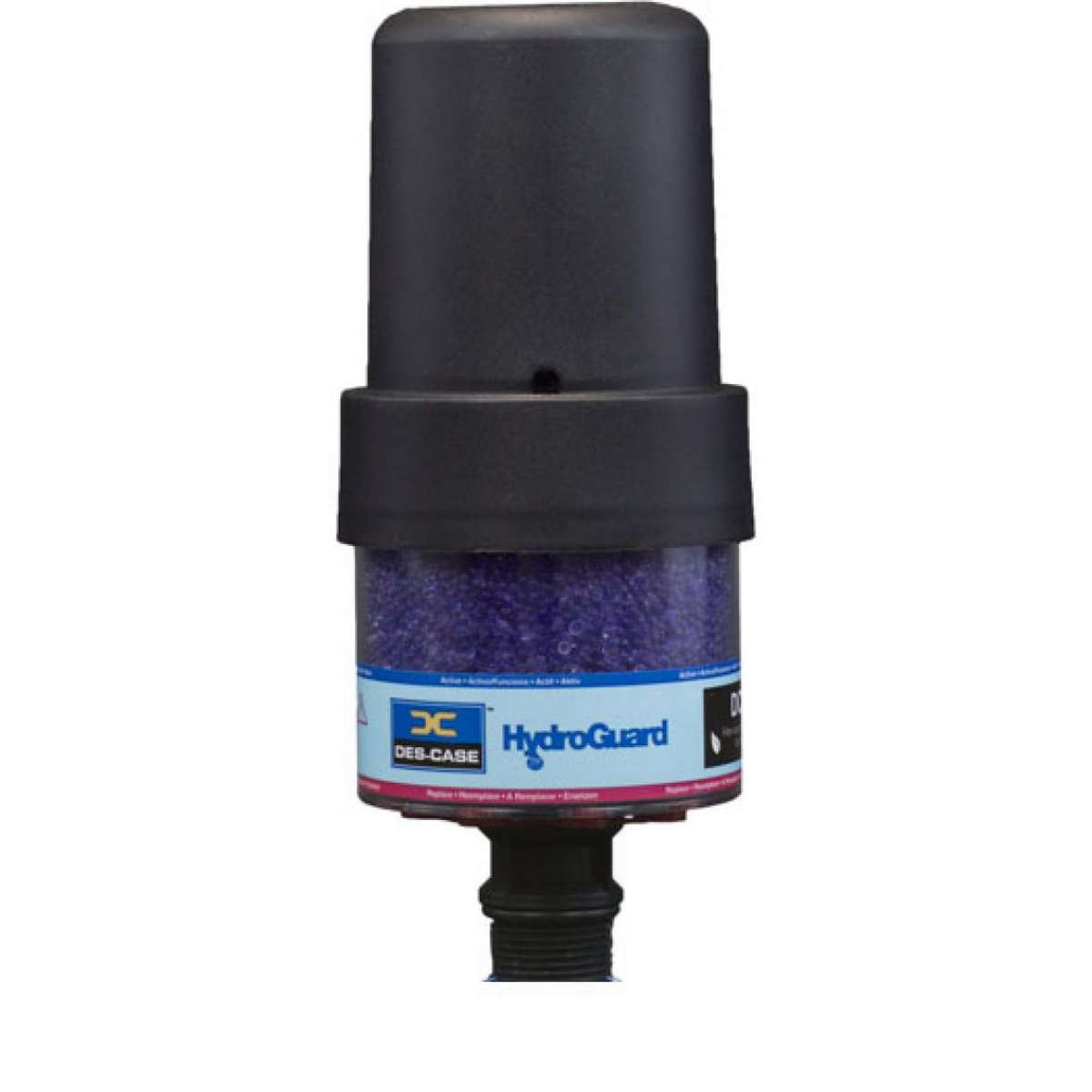 Des-Case DC-HG-8 HydroGuard Hybrid Breather
$178.64

Hybrid Breathers - Hydroguard
TM
Hybrid technology breather for specialty applications
OVERVIEW

From the expansion chamber system to the check valves, every element of Des-Case's patented HydroguardTM breather has been designed to stand up to a wide variety of industries and applications taking advantage of Des-Case's contamination control expertise.
HydroguardTM breathers by Des-Case attack the source of contamination, allowing your equipment and lubricants to run longer and harder.
Integrated Nylon Standpipe allows for greater chemical compatibility and vibration resistance. Polycarbonate Body Shock-absorbing, clear casing provides reliable service and easy maintenance. Threaded Mounting easily and securely replaces standard filler/breather cap with one of two adapters. Foam Pad disperses air evenly over filter media and silica gel. Patented Polyester Filter captures particles as small as 0.5 micron (73.5% efficiency), 3-micron absolute (beta-3 >200). Silica Gel/Desiccant removes water from incoming air, extending fluid and system life. Expansion Chamber
SPECIFICATIONS

Unit Height: 9.75" ( 24.76 cm)
Diameter: 4.1" ( 10.41 cm )
Amount of Silica Gel: 10.4 oz. ( 240 g )
Adsorption Capacity: 4.05 fl.oz. (120 ml)
Max. Flow Rate: 2.5 cfm @ 1 PSID
Filtration: 3µ (absolute)
Operating Temp. Range: -20°F to 200°F ( -28.9°C to 93°C )
Hydrophilic Agent: Silica Gel
Filter Media: Polyester
Connection Size: 1" NPT
FEATURES

Ideal for gearboxes, washdowns, and high humidity areas
Desiccant, particulate filtration ensures incoming air is dry and clean
Expansion chamber system isolates lubes from all levels of ambient humidity
Check valves ensure no excess pressure/vacuum builds
Prevents water contamination in oil and related fluids.
Prevents rust and corrosion inside the container.
Prevents chemical reactions or spoilage.
Increased oil and oil filter life.
Reduced abrasive wear, downtime, and repair costs.
Improved lubricant performance.
More reliable equipment performance.