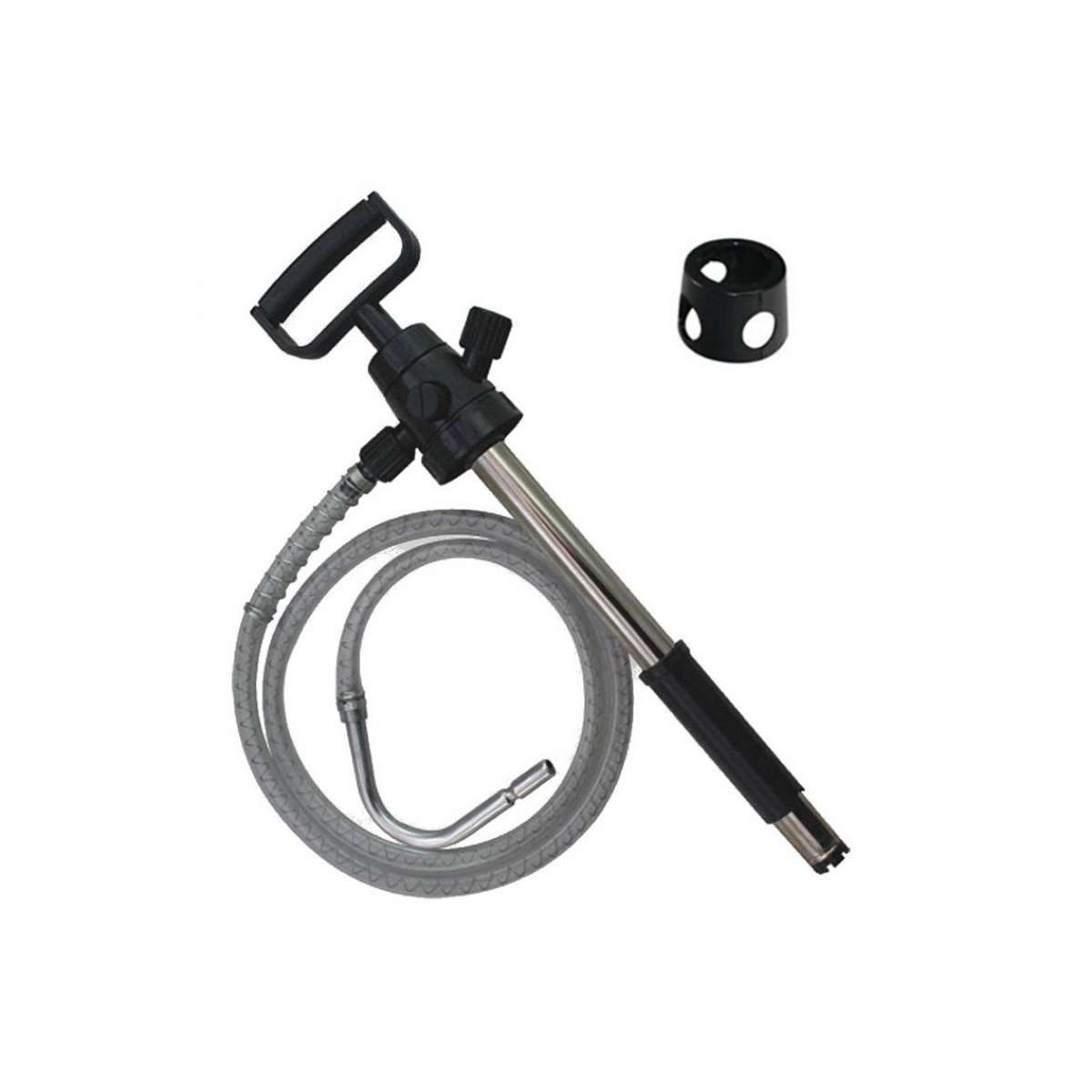 Oil Safe Premium Pump - OIL SAFE - Black
$203.98

Improve your Lube Procedures
This high volume, down-stroke discharge pump delivers 1 liter for approximately 14 strokes. Match with an Oil Safe® Utility Lid and a 3, 5 or 10 liter/US quarts Oil Safe® Drum. Supplied with outlet hose and anti-drip nozzle.
OVERVIEW

Oil Safe is pleased to introduce another market leading innovation with its new Premium Oil Transfer Pump for those customers seeking advanced functionality to meet their lubrication reliability goals.
Sharing the unmatched efficiency of the OIL SAFE Standard Pump, the OIL SAFE Premium Pump is the only pump in its class that is fully serviceable, can be easily configured for quick connect operation and is capable of handlng ISO 680 viscosity oils.
SPECIFICATIONS

Overall pump length: 48 cm (19 in)
Discharge hose length: 122 cm (48 in)
Approximately 12 Strokes to the Liter/Quart. Fitted with anti-drip nozzle & anti-kink hose. Ground shaft with o-ring seal.
Suitable for use with lubricating and gear oils of viscosity ranges up to:
ISO 320 - 680
AGMA Grades 6 - 8
SAE 140 Gear Oil

SEALING COMPONENTS
Nitrile O' Rings (Buna N) N7 70 Durometer
SERVICE TEMP RANGE
-40°C to 80°C -104°F to 176°F
CHEMICAL RESISTANCE
High Density Polyethylene (HDPE) is a very chemically-resistant plastic however, contact with strong oxidising acids (eg. Ozone,Hydrogen Peroxide, Halogen etc) should be avoided.
SAFETY WARNING
NOT SUITABLE FOR USE WITH FUELS OR SOLVENTS
Keep away from naked flames or excessive heat.
Avoid prolonged or repeated skin contact with used oil.
Note: breather is not included

FEATURES

The new patent pending Premium Oil Safe Transfer Pump features: Ultra comfortable D-Handle Grip Design.
Fully serviceable pump internals via quick release body collar for maximum life.
Premium materials of construction for maximum reliability.
Unique Oil Safe Pump non-return discharge valve that massively improves pump efficiency resulting in less effort and time required for oil top-ups.
Removable color-coded body collars in a choice of 10 different colors to match to color-coded Oil Safe Utility Lids. Match the color-coded Pump to the color-coded Oil Safe Utility Lid.
Highly efficient with approximately 12 strokes to the liter with capability to handle ISO 680 viscosity oils.
Configure the OIL SAFE Premium Pump for operation with quick connects. This enables the container to be filled by quick connect through the pump body (no need to remove the lid) and also enables attachment to machinery fill points by quick connect via the pump discharge hose.
A range of optional pump accessories are available including: Quick connect kits, Removable discharge hoses, 10 Micron Breather.