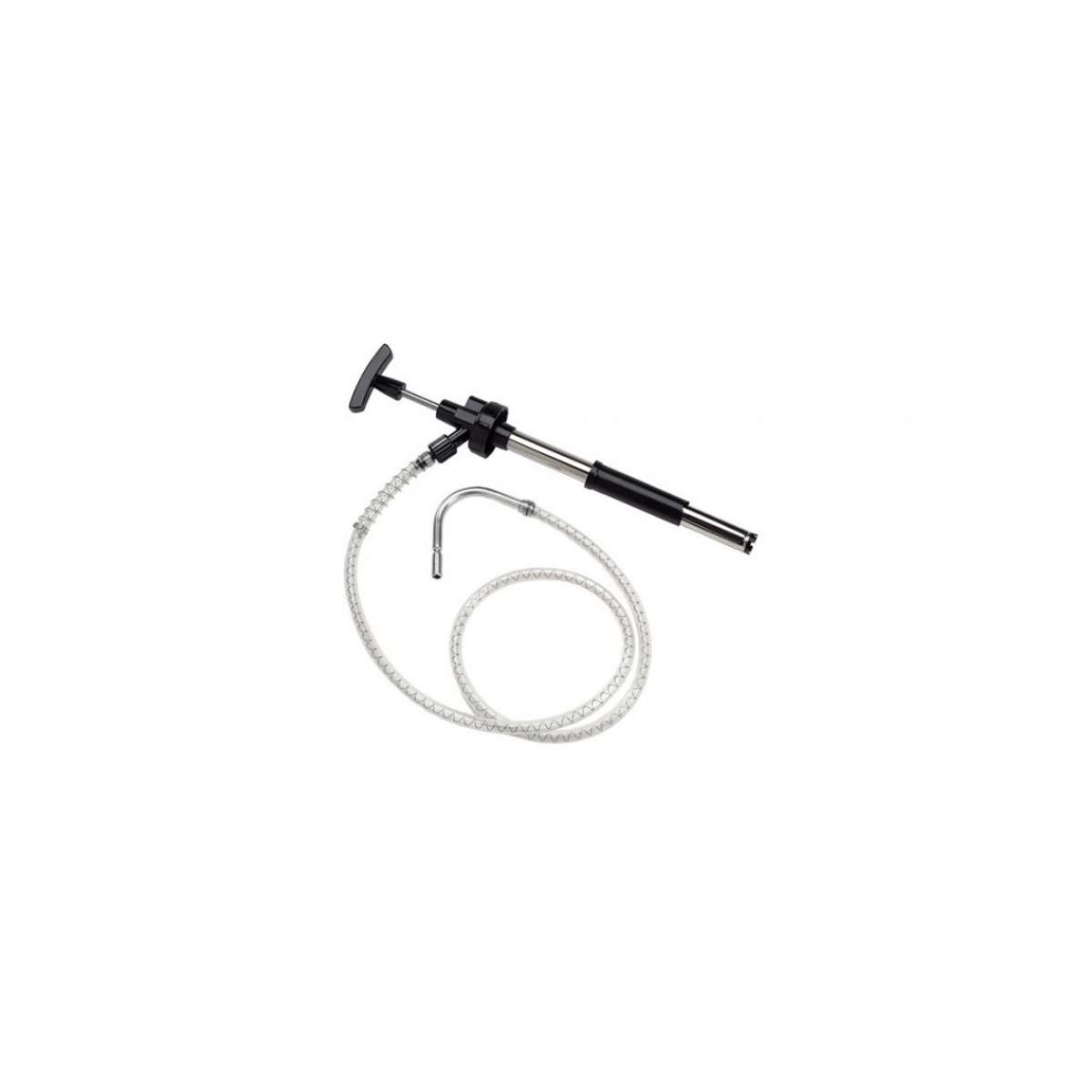 Oil Safe Pump
$134.79

Improve your Lube Procedures
This high volume, down-stroke discharge pump delivers 1 liter for approximately 14 strokes. Match with an Oil Safe® Utility Lid and a 3, 5 or 10 liter/US quarts Oil Safe® Drum. Supplied with outlet hose and anti-drip nozzle.
OVERVIEW

Maintenance Professionals are now taking a proactive approach to the storage, handling and dispensing of all types of oils. Lubricants must be considered as an expensive asset, that must be carefully managed if they are to provide the necessary protection for today's increasingly complex machinery.
Consequently, many past practices in the way lubricants are stored, handled and dispensed in the work place need to change to ensure maximum cleanliness. Another aspect of modern industry, is our acute awareness of environmental, health and safety issues.The impact of pollution cannot be underestimated.
Almost all industrial environments place particular demands on plant, machinery, equipment, lubricants and lubrication techniques. Oil is frequently topped up or replaced on site under the harshest of conditions and where the potential for contamination from dust, dirt and water is the greatest.
The Oil Safe range of products are durable and built to perform in even the most hostile of environments. Made from High Density Polyethylene (HDPE), Oil Safe will provide reliable service with a UV Stabilized structure for long outdoor life and static electricity concerns have been addressed by the use of anti-static additives.
SPECIFICATIONS

Overall pump length: 440mm (17.32in)
Discharge hose length: 1,500mm (59.06in)
Approximately 14 Strokes to the Liter/Quart. Fitted with anti-drip nozzle & anti-kink hose. Ground shaft with o-ring seal.
Suitable for use with lubricating and gear oils of viscosity ranges up to:
ISO 320 - 680
AGMA Grades 6 - 8
SAE 140 Gear Oil

SEALING COMPONENTS
Nitrile 'O' Rings (Buna N) N7 70 Durometer
SERVICE TEMP RANGE
-40°C to 80°C -104°F to 176°F
CHEMICAL RESISTANCE
High Density Polyethylene (HDPE) is a very chemically-resistant plastic however, contact with strong oxidising acids (eg. Ozone,Hydrogen Peroxide, Halogen etc) should be avoided.
SAFETY WARNING
NOT SUITABLE FOR USE WITH FUELS OR SOLVENTS
Keep away from naked flames or excessive heat.
Avoid prolonged or repeated skin contact with used oil.
FEATURES

Protect your valuable lubricants from contamination.
Make the task of lubrication easier, faster and safer.
Are easy to handle, minimising the risk of potential spills or accidents which can occur when using traditional containers, especially where heavy lifting and awkward pouring is often par for the course.
Feature an interchangeable system of lids, drums and pump, meaning that the correct tool is always available at any time.