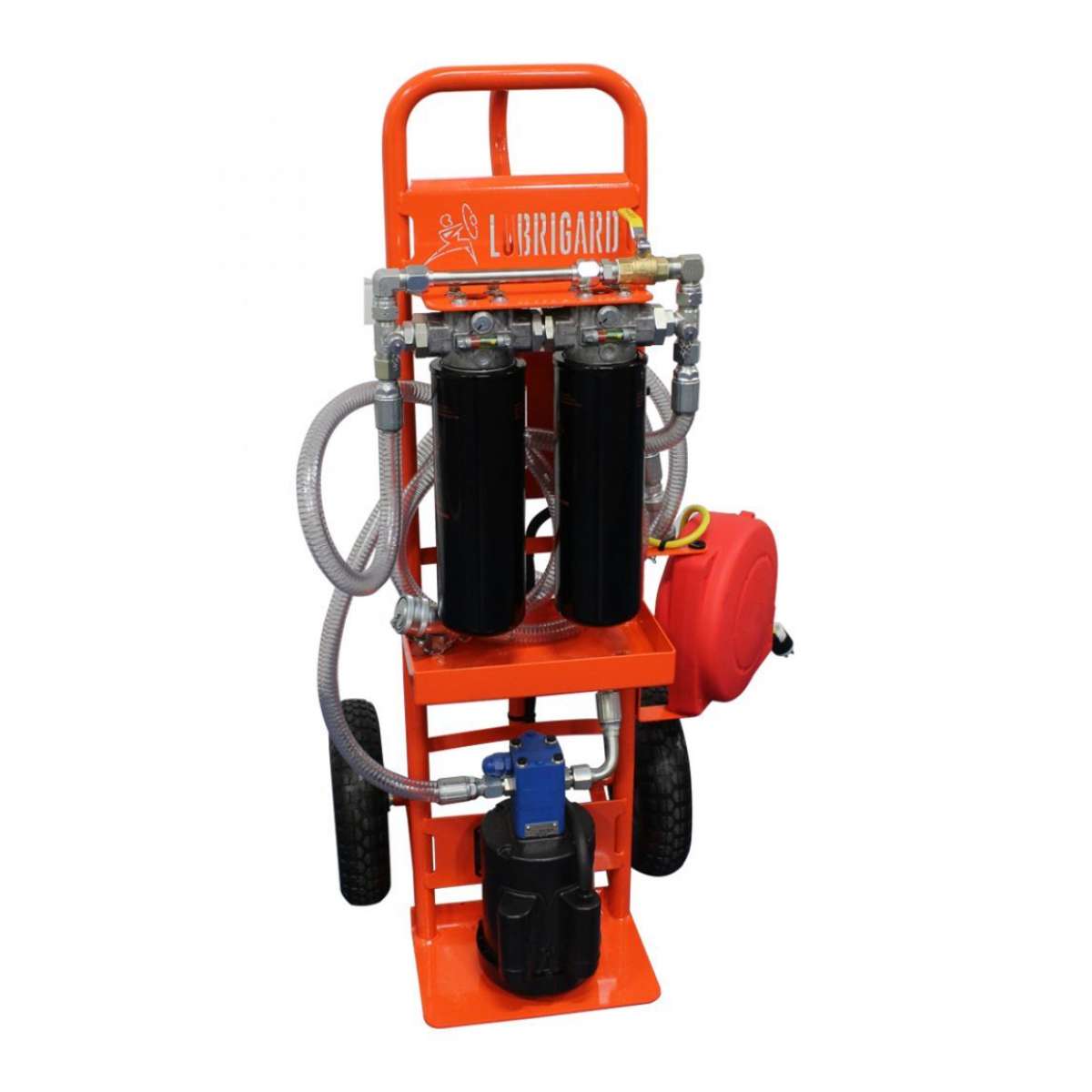 Lubrigard 2 Wheeled Hand Truck Filter Cart
$6,487.50

Simple and Powerful.
Lubrigard 1HP, 2GPM SPCL
Part Number:
LG-HTD5WR102SH1SQ125C1-ES
OVERVIEW

The Y2K HT-D Series Filter Cart is our signature filter cart and is an excellent choice for "off-line" filtration in a wide variety of settings. Extremely mobile and lightweight, this filter cart has all the power needed for filtering oil viscosities up to 600cSt (ISO VG 680). This filter cart is completely customizable to fit all of your needs.
Typical Applications:
Filtering contaminated system
Flushing new or repaired systems
Pre-filtering new oil
Transferring oils
Topping off reservoirs
Collecting oil samples for analysis
Dispensing new oil
SPECIFICATIONS

2 Wheeled Hand Truck Filter Cart
Flat/Maintenance Free Tires
Dual 50 PSI Bypass Filter Heads W/ Color Coded Differential Pressure Indicators
Water Removal First Stage P1048WR
10 Micron Beta 1000 Second Stage P1063
2" Lipped Drip Pan Under The Elements
1HP Motor TEFC 110VAC
2 GPM Heavy Duty Cast Iron Gear Pump W/ 150 PSI Relief Valve
7' Suction and Discharge Hoses With ISO B Quick Disconnects (1" & 3/4" PVC w/hydraulic Jumper)
25' Electric Cord
Textured Black Powder Coat: Oil Resistive Grip For Safety
External Gauge (Color Coded External Gauge)
Suction inlet Strainer
FEATURES

Frame: Carbon steel with drip pan
Paint: Industrial powder coat; various colors available
Motor: 1HP, 115vac, 60Hz or Pneumatic Air
Filter Heads: Medium pressure, steel heads
Pump: Heavy duty steel gear pump. Available in 1, 2, 5 and 10 GPM
Connections: ISO A, ISO B, Flush Face and Camlock options available
Hoses: 7ft. Clear PVC, steel reinforced hose or hydraulic hose
Power Switch: Sealed on/off power switch
Filter Indicators: Slide bar indicator triggers at 50psid when elements need to be changed
Pump Relief: Opens at 150psi
Weight: Approx 125lbs (will vary depending on options)