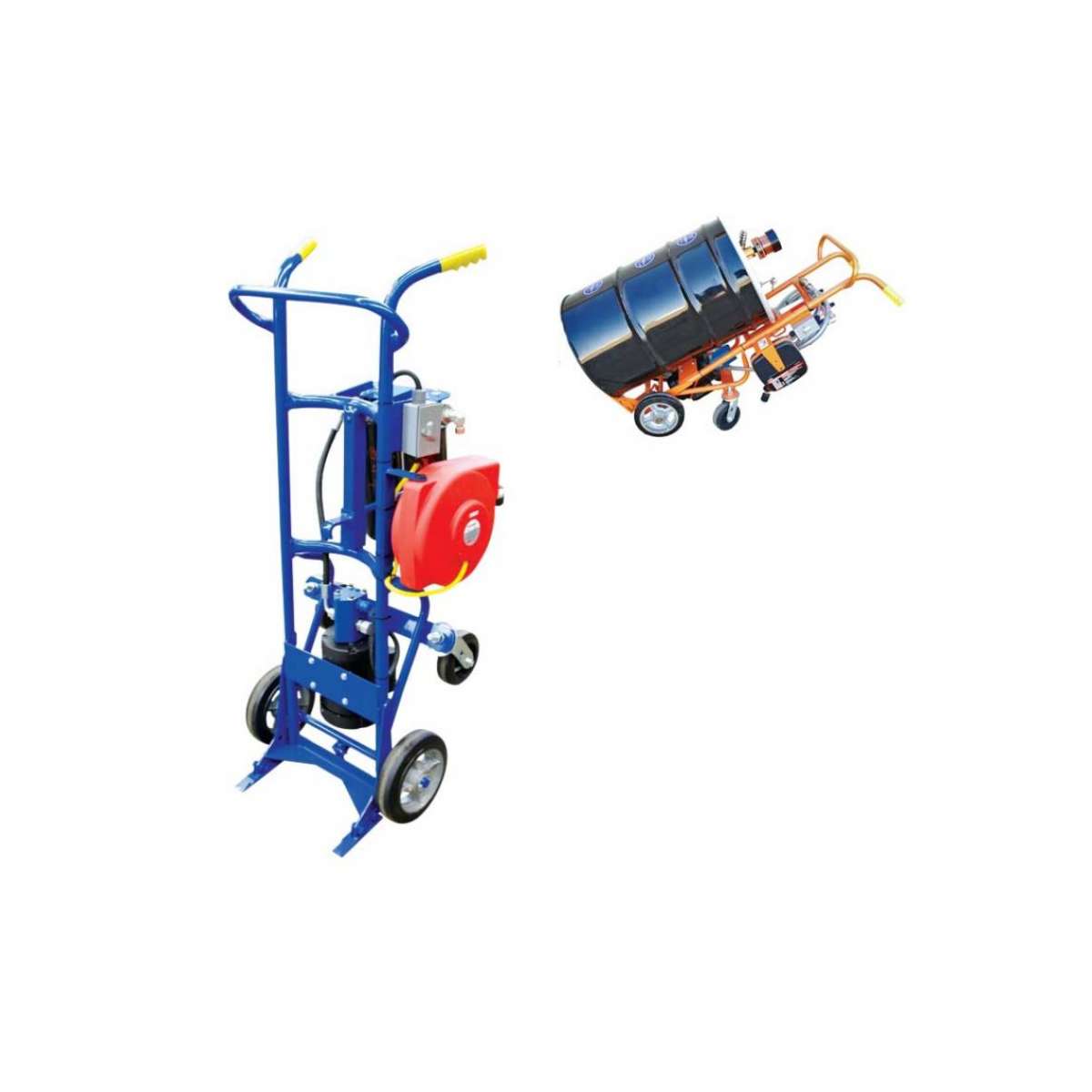 Lubrigard D-Series Drum Cart - 4 Wheels
Price: Call for price
1-800-268-2131

Simple and Powerful.
D Series Drum Filter Cart - 4 Wheel Design - All-in-one Convenience!
Part Number:
LG-DCNFNENE2SH1SQ140R1
OVERVIEW

All-in-one convenience is what the DC-D Drum filter cart is all about. The simple practicality of this cart allows the operator to dispense and filter oil out of a 55 gallon drum on wheels. A magnetic kickstand adds stability and ensures the drum will not tip over. The drum filter cart has ability to filter oil viscosities up to 600cSt (ISO VG 680) at 100°F within ambient temperature ranges of -15°F to 150°F. All Y2K products are 100% customizable upon request.
SPECIFICATIONS

NO ELEMENTS OR FILTER HEADS INCLUDED
1HP MOTOR TEFC 110VAC
2 GPM HEAVY DUTY CAST IRON GEAR PUMP
FILTER HEAD BRACKET WELDED ON FRAME
7' SUCTION AND DISCHARGE HOSES 1" AND 3/4"
ISO B QUICK DISCONNECTS (1" and 3/4")
40' RETRACTABLE ELECTRIC CORD REEL
BLAZE ORANGE:
FEATURES

For filtering mineral and synthetic based oils (hydraulic oils, gear oils and turbine oils) with a maximum operating viscosity range of ISO VG 680 (3000ssu/648cSt) at 100°F within ambient temperature ranges of -15°F to 150°F.

Frame: Carbon steel; two hard rubber tires & two swivel casters
Paint: Multiple color options available
Motor: 1HP, 115vac, 60Hz or Pneumatic
Filter Heads: Medium pressure, cast aluminum heads
Pump: Heavy duty, cast steel gear pump. Available in 1, 2, 5 and 10 GPM
Connections: Various quick connect options available
Hoses: 7ft. Clear PVC, steel reinforced hose or hydraulic hose
Power Switch: Sealed on/off power switch
Cord Reel: 40ft. retractable electric cord reel
Filter Indicators:Slide bar indicators trigger at 50psid when elements need to be changed
Pump Relief: Opens at 150psi
Weight: Approx. 175lbs (will vary depending on options)
Dimensions: Approx. 23"L x 21"W x 59"H