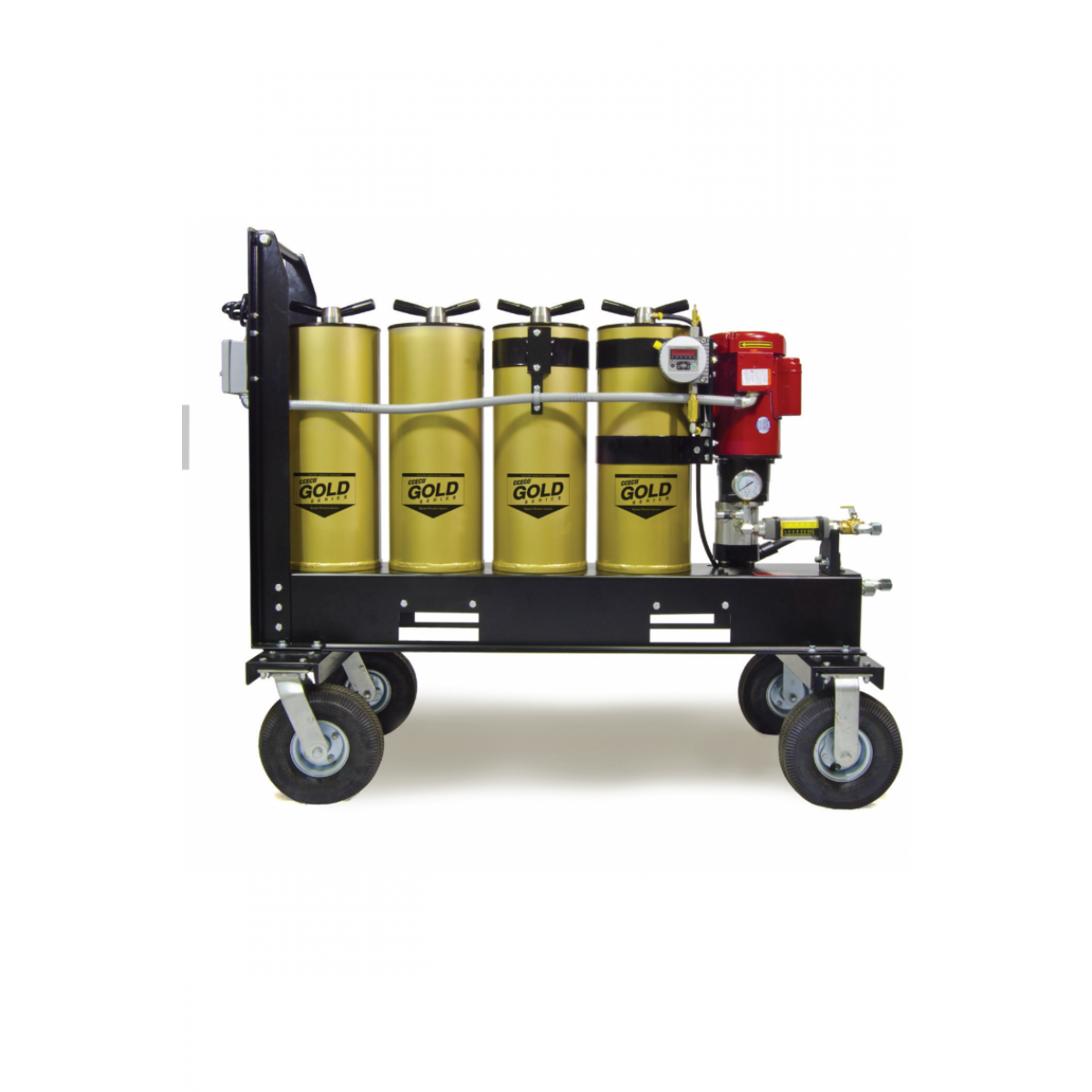 Lubrigard Lubrigard GFC400 XP Motor
Price: Call for price
1-800-268-2131

Simple and Powerful.
Mobile 4 Wheel Depth Media Gold Filtration System
Part Number:
LG-GFC400-XP
OVERVIEW

Our dedicated by-pass filtration systems far exceed industry standards, filtering down to 1 micron will maintain cleanliness levels several grades cleaner than brand new oil, dramatically extending the life of lubricated components and oil. Increased filtration accuracy prevents wear in hydraulic, gear and diesel engine oil systems. Extending equipment life saves you time, money and resources. Maximum contaminant holding capacity and water removal with depth filtration increases reliability and productivity for your most critical assets. Our GFC series offers full-time or scheduled, timed operation for 24/7 filtration. Portable flexibility to filter bulk storage or actively running equipment. A variety of elements, plus a heater option, allows for filtration of viscosities up to 1000 cSt!
SPECIFICATIONS

1 Phase Explosion Proof : Div. 1, Div. 2, Class 1, Groups C&D, Class 2, Groups F&G W/Conduit Box (UL/CSA)
*Motor comes not wired and without a switch or plug, customer responsible for final wiring and safety check
FEATURES

Filters down to 1 micron, several grades cleaner than new oil
Moisture removal down to 100ppm
Lower ISO codes
Heavy duty wheels for easy mobility
Laser Particle Counter option so you can always know your oil condition in real time
Sample port for easily drawn oil samples
Depth-style filtration for maximum dirt holding capacity and efficiency
Reduces Contamination Failure in Hydraulic Systems, Transmission Fluids, Mobile Hydraulic Systems and Stationary Hydraulic Systems