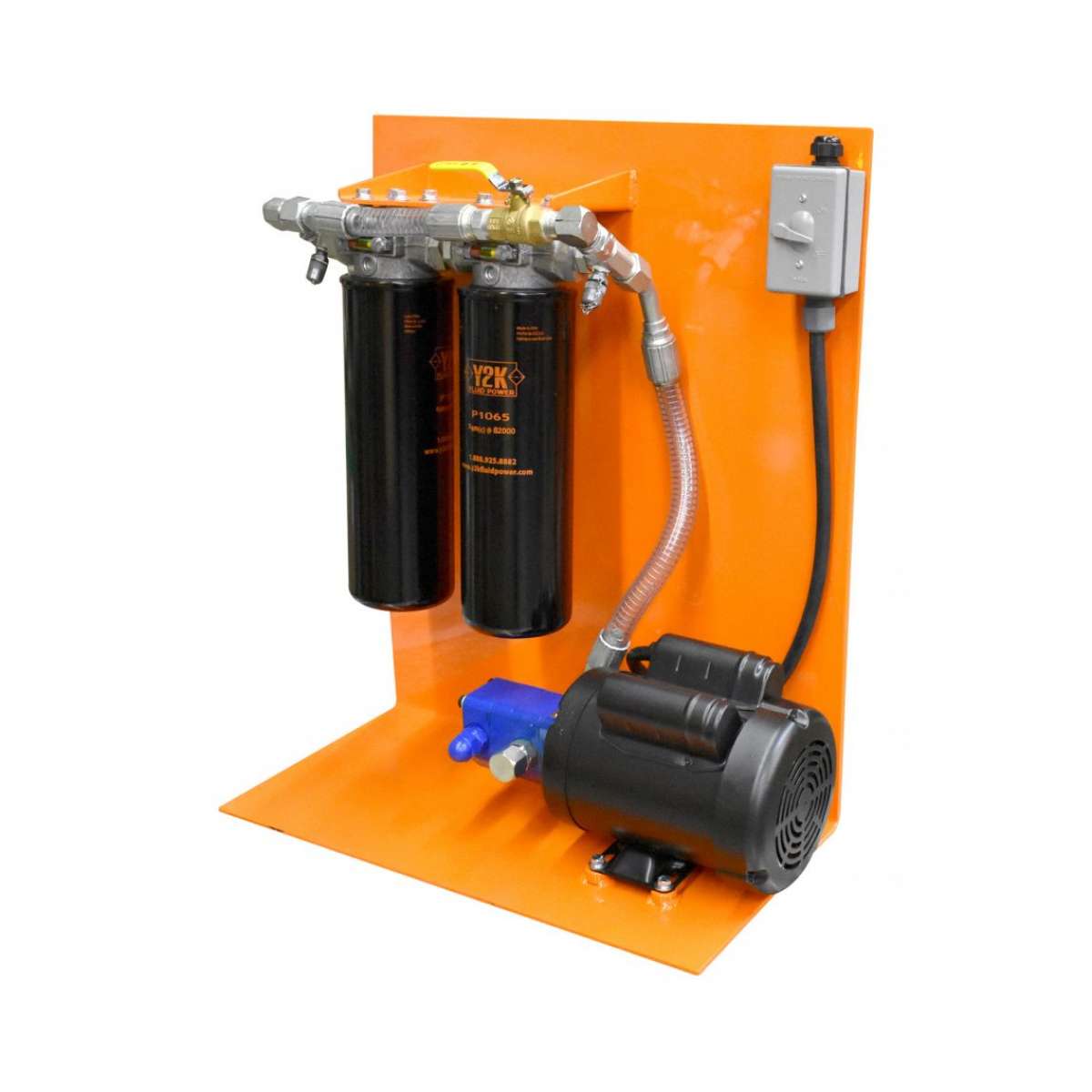 Lubrigard Panel Unit With Shroud 1HP 5GPM
Price: Call for price
1-800-268-2131

Compact and Portable
D Series FilterCart - Compact and Portable.
Part Number:
LG-PUD5WR45NHNQNC4-OZZ
OVERVIEW

When you need to install a permanent, continuous duty solution for your offline filtration, the PU-D Panel Unit is the perfect solution. Available in a variety of sizes, it will suit any space requirement you may have. These filtration systems have all the power needed for filtering oil viscosities up to 600cSt (ISO VG 680) at 100F within ambient temperature ranges of -15F to 150F. All Y2K products are 100% customizable upon request.
Typical Applications:
Filtering contaminated system
Collecting oil samples for analysis
Dispensing new oil
Permanent Installations
SPECIFICATIONS

Heavy duty panel Unit:24" x 12" x 29" With Mounting Holes
Protective cover shroud for operation in extreme environments
Dual 50 PSI Bypass filter heads with color coded differential pressure indicators
Water removal first stage P1048WR
4 Micron Beta 2000 Second Stage P1066
No Hoses Or Quick Disconnects
1 HP Motor TEFC, 110VAC, 60HZ
5 GPM Heavy Duty Gear Pump
Oil Sample Ports Up/Down Stream of the filter elements
Powder Coated Industrial Oil Resistive Textured Black
Pressure Gauges On the Inlet and Outlet
FEATURES

Frame: Carbon steel with drip tray
Paint: Multiple color options available
Motor: 1HP, 115vac, 60Hz or Pneumatic
Filter Heads: Medium pressure, cast aluminum heads
Pump: Heavy duty, cast steel gear pump. Available in 1, 2, 5 and 10 GPM
Filter Indicators: Slide bar indicator triggers at 50psid when elements need to be changed
Pump Relief: Opens at 150psi
Weight: Approx 125lbs (will vary depending on options)
Dimensions: Approx 24"L x 12"W x 29"H