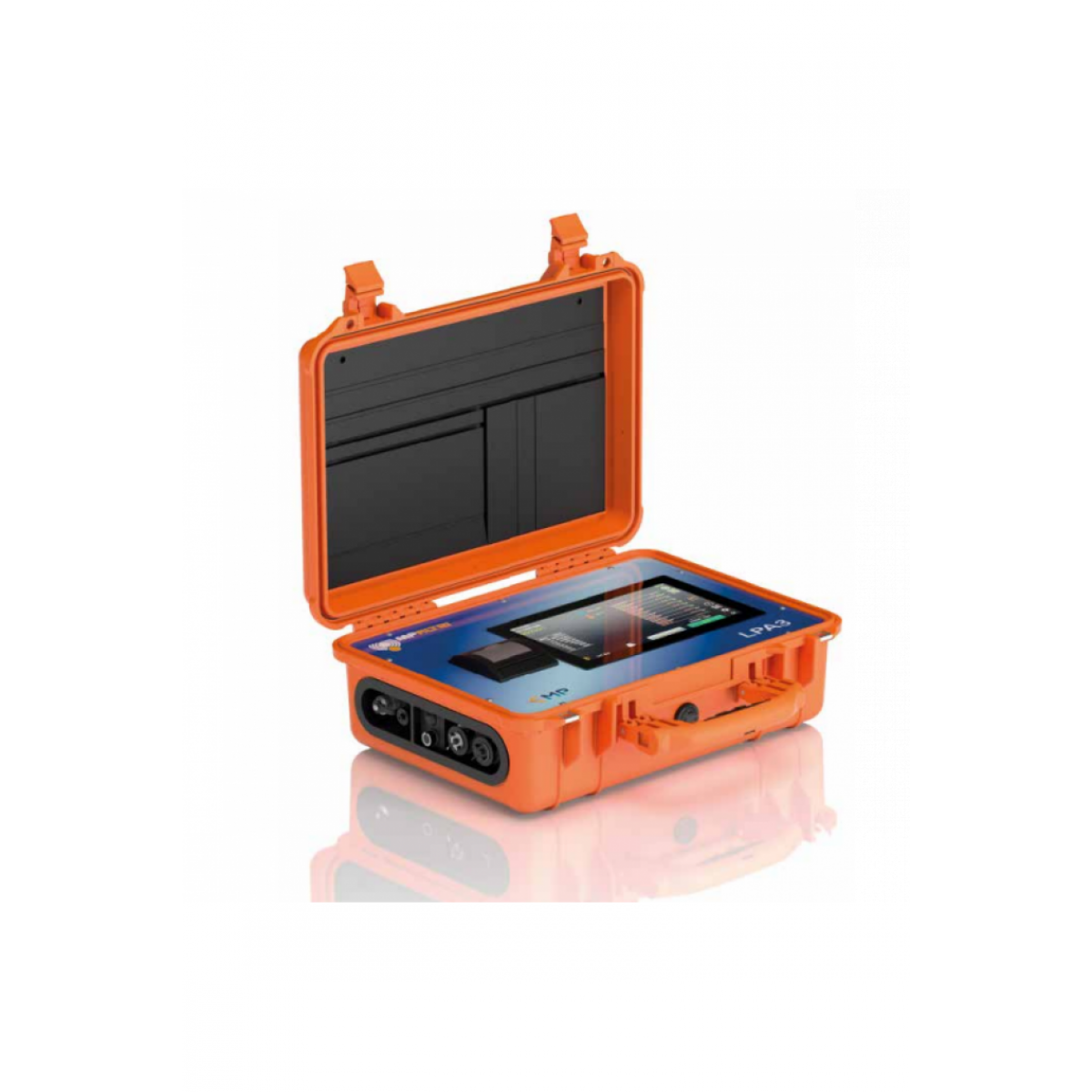 MP Filtri LPA3 Portable Particle Counter
$25,143.92

Portable Particle Counter
A unique high accuracy, fully portable product. For users of hydraulic, lubrication and transmission systems. The LPA3 is a highly accurate, portable laser particle analyser that counts and sizes particles of solid contaminants in fluid power systems.
Part Number:
LPA3-0-P-S-101
OVERVIEW

The LPA3 was designed to replace the LPA2. The customer should find only improvements in terms of performance.

MP Filtri's next-generation LPA3 delivers a fast, accurate and comprehensive hydraulic health check in a robust yet portable package.

Featuring the latest breakthroughs in optical and photodiode technology, the new LPA3 enhances the reliability and longevity of complex hydraulic systems and reduces costs and unplanned downtime.

The LPA3 can be connected to the MP range of bottle sampler products to enable laboratory based particle counting!

Comprehensive hydraulic health check
Perfectly portable
Programmable 10.1" touch-screen display
Super-fast sample times
SPECIFICATIONS

Technology: LED based light extinction automatic optical particle counter Particle Sizing: >4, >6, >14, >21, >25, >38, >50, >70 µm(c) Analysis Range:ISO 4406:2017 Code 8 to 24
NAS 1638 Class 2 to 12
AS4059/ISO11218 Rev E, Table 1 Size Codes 2-12
AS4059/ISO11218 Rev E, Table 2 Size Codes, A:000 to 12, B:00 to 12, C:00 to 12, D:2 to 12,
AS4059 Rev F, Table 1 Size Codes 2-12
AS4059 Rev F, Table 2 Size Codes, cpc[000 to 12, 00 to 12, 00 to 12, 2 to 12, 4 to 12, 7 to 12]
GBT14039 Code 8 to 24
GJB420B Size Codes, A:000 to 12, B:00 to 12, C:00 to 12, D:2 to 12, E: 4 to 12,F: 7 to 12
Accuracy: ± 1/2 code for 4, 6, 14µm(c) ± 1 code for larger sizes
Calibration: Individually calibrated with ISO Medium Test Dust (MTD) based on ISO 11171, on equipment certified by I.F.T.S. ISO 11943
Viscosity Range: Up to 400cSt
Fluid Temperature: Minimum: +5°C / +41°F Maximum: +80°C / +176°F
Ambient Temperature: Minimum: -10°C / +14°F Maximum: +80°C / +176°F
Pressure: Minimum: 2 bar / 29 PSI Maximum: 420 bar / 6091 PSI (without on-screen inlet pressure display)
Sample Volume: Maximum 100ml / 0.035 fl oz per pump stroke.
Test Volumes programmable by end user. Pre-set volumes also available
Data Storage: Up to 4000 tests
Environmental Protection: IP 66 (Lid closed) IP54 (Lid open)
Power: Lithium-Ion rechargeable battery 18-19v 2.1-3.0A
Weight: 10 kg / 22lbs
Product Dimensions: Width: 435mm / 17" Height: 292mm / 11" (not including handle) Depth: 155mm / 6"
FEATURES

Comprehensive hydraulic health check
Perfectly portable
Programmable 10.1" touch-screen display
Super-fast sample times
Pro-active maintenance technology
Increased sample volumes (up to 100ml)
Sophisticated, yet simple to use technology
Live trend analysis
Measures and displays all major international standard formats
Ideal for hydraulic, lubrication, and subsea fluids Long-life lithium-ion battery Increased integrated memory capacity from 600 to 4000 tests Integrated printer option Simple learning curve