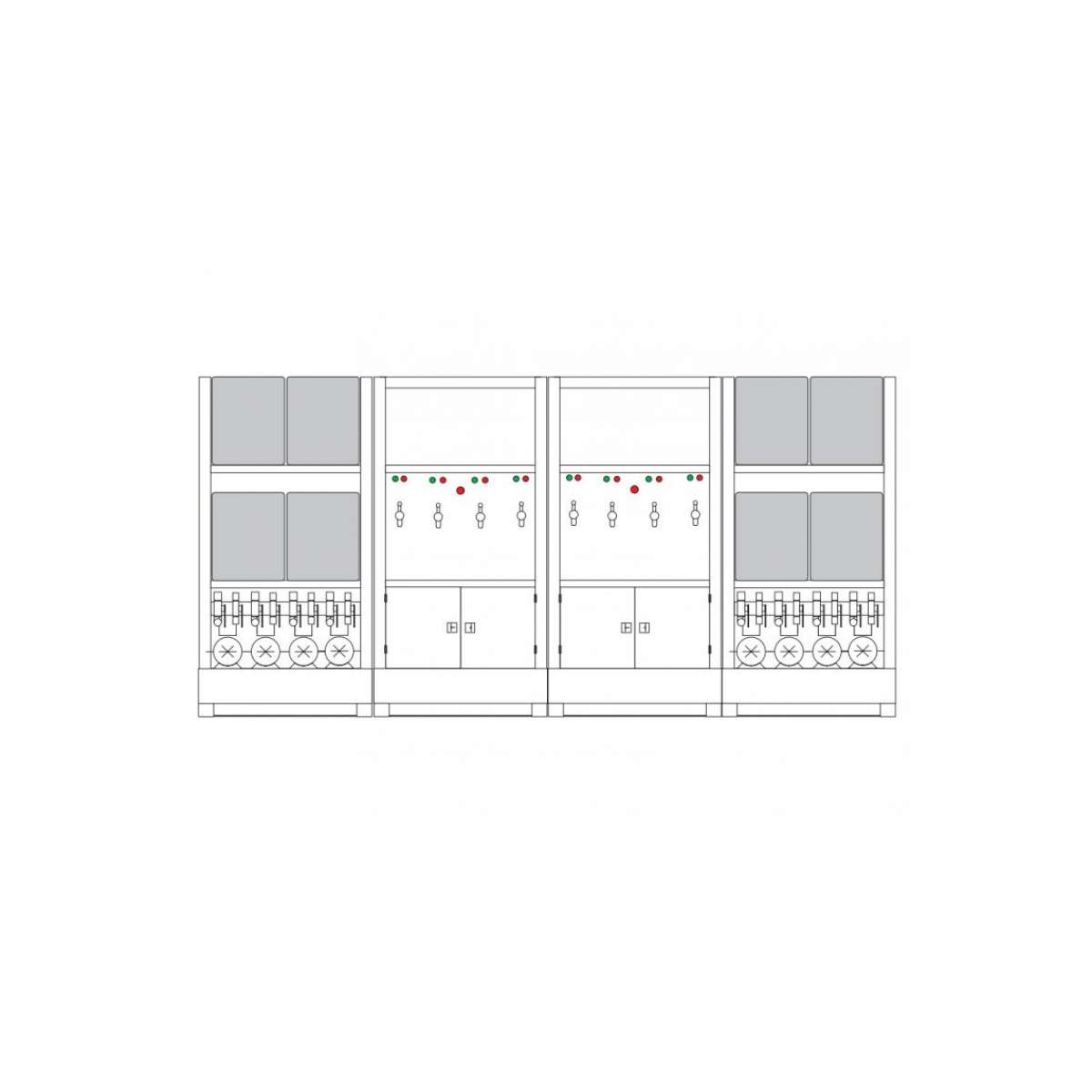 Fluid Defense Lubrication Work Center - 8 x 65 Gallon
$101,172.36

The better way to handle oils
The OIL SAFE Lubrication Work Center is the best practice solution for storage and dispensing of lubricating oils and glycol based coolants in industrial facilities.
OVERVIEW

An instant Lube Room, this premium configuration incorporates best of class features.
SPECIFICATIONS

All tanks are Color Coated Containers with Level Gauges, and tank fittings. All Containers are TGIC Polyester Powder Coated, and constructed of aluminum.
3-Way Product Diverter Valve Assemblies to allow Product to be pumped through the Filters into the Containers, and then pulled back out of the Containers, through the Filters with the Transfer Units. Product can also be Pulled from the Containers, Cycled through the Filters and sent back into the Containers.
Client to supply and install electrical outlets (on independent circuits if more than one pump could be running at any given time) as energy source for main power supply:

System includes one 110 Volt/14A, 1.0HP TEFC electric motors for positive displacement gear pumps (3-5GPM) per tank

Individual Filter Assemblies consisting of Filter Heads, and Outlet Fittings. Filter Assemblies are to be supplied with the 14.2" Filter Elements and Electronic Differential Pressure Indicator (DPI).
Desiccant Air Breathers (one per tank)
Grounding Kit Assembly (Required with Filtration) to Ground the Filters to the System Frame, the System Frame to an Earth Ground and the Transfer Unit to the Supply Drum
Stainless Steel Suction Tube Assemblies with Reinforced PVC Suction Hose. One per tank
46"(w) x 61" (d) x 88" (h) Painted Mild Steel Integrated Tank/Pump/Dispensing Frames with 46" x 46" x 9" spill transport pallet, auto-shut off dispensing faucets with drip pan, and electronic motor stop/start control buttons.
System will come complete with MSHA accepted 811HT suction & return hoses, all fittings etc. and will ship in pre-assembled modules for rapid on-site installation.
Each bulk system will come supplied with a large tank label and a small matching operating valve label at no additional charge. These labels will be generated based off of the information supplied on the requested specificaion matrix. These labels will follow our preferred label layout which includes Type of Lubricant Product Name, Viscosity, Tank Color, Tank Number, Fluid Symbol and/or Lube Code.
FEATURES

Dedicated pump and filter per tank - to prevent cross contamination oflubricants and ensure maximum cleanliness
Electrical Protection - circuit breakers, surge protectors and motor overload protection all ensure safe and effective operation in demanding environments
Spill Containment - built in spill containment for EPA SPCC compliance
Ergonomic dispensing station - dedicated ergonomic dispensing center with premium work surfaces and parts & tool storage
Pre-assembled - delivered pre-assembled with detailed owner's manual including installation instructions
Fully welded and powder coated structural steel frameset for maximum durability in industrial environments
12 Gauge Aluminized Steel Tanks available in 4 sizes and 10 colors - 30, 65, 120 and 240 gallons
Flame Resistant Fire Suppression Hose Assemblies - MSHA-CFR30 rated