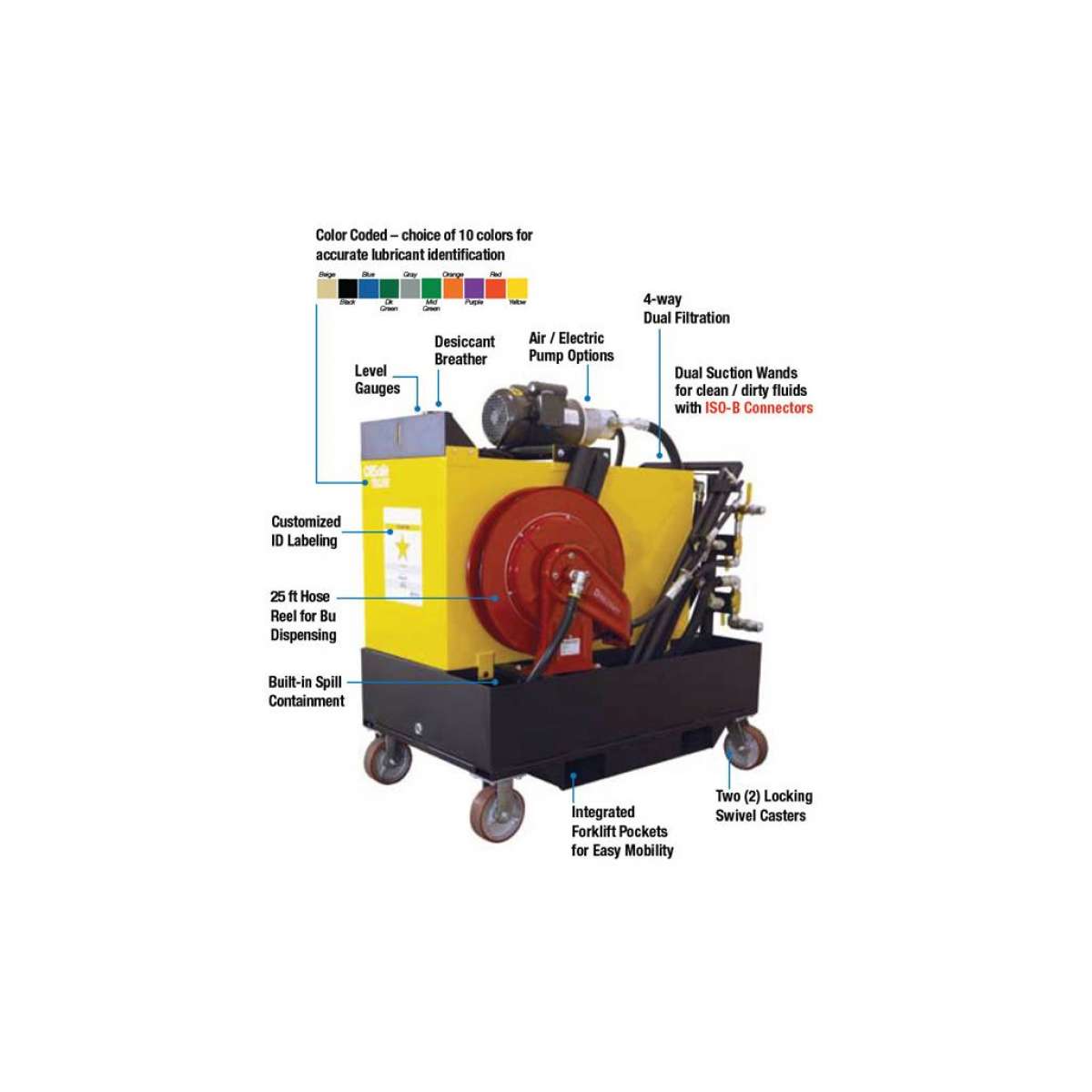 Fluid Defense Advanced 65 Gal Fluid Handling Cart
$15,907.47

Take the weight of oil, and cans off your back
OIL SAFE - Advanced 65 Gal Fluid Handling Cart
SPECIFICATIONS

Tank color will be supplied in Oil Safe standard colors as directed by Client in the attached Product Data Sheet.
Tank will be supplied with Identification and NFPA Hazmat labeling if directed by Client in the attached Product Data Sheet.
All systems to conform to OilSafe specifications
System will be supplied with dual spin on filters - micron ratings as directed by Client in the attached Product Data Sheet or 2000/25um
All Containers are TGIC Polyester Powder Coated, and constructed of 12 Gauge Aluminized Steel.
System includes one 110V/20A, 1.0HP TEFC electric motors for positive displacement gear pumps (3-5 GPM) per tank
MSHA CFR 30 P18 Flame Resistant Fire Suppression Hose assemblies available
Desiccant Air Breather, level gauge and sealed cap for bulk tank filling
25' - ¾" Dia auto retracting hose reel with dispensing nozzle
Aluminized Steel Tank/Pump with spill transport pallet and lift truck fork guide for safe transportation
4 Urethane casters (2 locking) for easy mobility on the plant floor or Lube room
Unit ships on one pallet: approximately 588 lbs
FEATURES

All tanks are Color Coated Containers with Level Gauges, and tank fittings. All Containers are TGIC Polyester Powder Coated, and constructed of 12 Gauge Aluminized Steel.
3-Way Product Diverter Valve Assemblies to allow Product to be filtered during dispensing, filling and recirculating. Product can also be filtered offline with use of supplied hoses and quick connects.
Client to supply and install electrical outlets (on independent circuits if more than one pump could be running at any given time) as energy source for main power supply:
System includes one 110 Volt/20A, 1.0HP TEFC electric motors for positive displacement gear pumps (3-5GPM) per tank
- Push button start / stop
- Desiccant Air Breathers (One per tank)
- 6' Suction and discharge hose with quick connects (2 Hoses, discharge and suction.
System can be upgraded with MSHA CFR 30 P18 Flame Resistant Fire Suppression Hoses, all fittings etc. and will ship in pre-assembled modules for rapid on-site installation.